Zendaya On Being a Young Black Actress in Hollywood and Creating Opportunities for Black Talent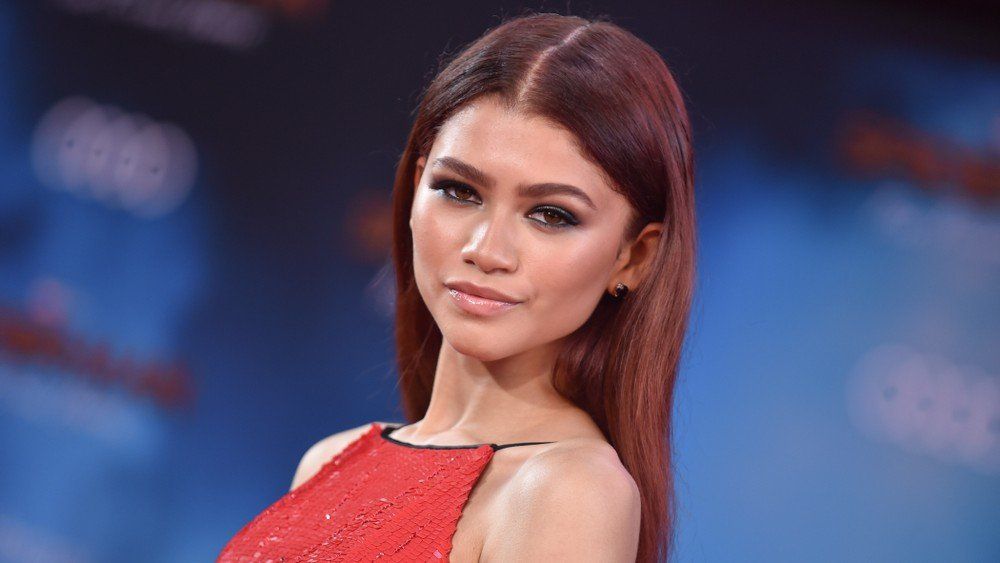 LOS ANGELES - JUN 26: Zendaya Coleman arrives for the 'Spider-Man: Far From Home' World Premiere on June 26, 2019 in Hollywood, CA (Editorial credit: DFree / Shutterstock.com)
Zendaya opens up on being a young black actress in Hollywood and her "ultimate goal" to create opportunities for Black talent.
Recently, Zendaya joined Reese Witherspoon, Jennifer Aniston, Janelle Monáe, Helena Bonham Carter, and Rose Byrne for the Hollywood Reporter's Drama Actress Roundtable, where she opened up about being a young Black actress in Hollywood.
Zendaya was a teenager when she got her first big break on the Disney Channel's  'Shake It Up.' The actress revealed she has a "heavy responsibility" by having a large fan base over the years.
"I have a heavy responsibility on my shoulders, but I'm appreciative of that because, with that, there's a lot of good that I can do, and I know who is watching," the Spider-Man: Homecoming star shared. "Now more than ever, specifically with Black Lives Matter and everything, I feel an obligation to make sure that I'm aware and putting out the right things and in line with organizers and people who are on the ground."
Zendaya has avoided being typecast over the years, and she explained before HBO's 'Euphoria' that she did not know what was next for her acting career.
"I think, like a lot of artists, I'm my biggest critic, so some of it was internal — not wanting to make a mistake or worrying that maybe I didn't have the room to make a mistake and want to make the right next move. But I also wanted to prove myself," she noted. "When Euphoria came along, I was very grateful because all those fears melted away, and I felt like it was something that I had to be a part of. So the fear became just, like, push yourself. If you go to work and you're scared, that's a good thing. You should be worried about whether you can do it."
She further explained what it means for her to not "make a mistake." saying, "It's a constant thing. Being a young Disney actor, that's one level, being a young Black woman is one level, and then being very hard on myself is another level. It's also just a personal fear," she explained. "I want to do a good job, and sometimes that can cause you to be fearful of things. But I will say that there's something that happens when a special character comes along, for me at least, and those fears melt away. They don't come back until it starts airing, which is when I started to get a little scared again. But now I'm excited to go back because the motivation is to work harder and become a better actress. I just want to get better."
Zendaya says she pushed her agents to get her auditions, even if the role was not necessarily written for a Black woman. She said while that is still "absolutely" the case, she wanted to acknowledge her privilege.
"I also think it's important being a light-skinned woman to recognize my privilege in that sense as well and make sure that I'm not taking up space where I don't need to," she notes.
"I think that's been a choice for myself. Our creator [Sam Levinson] wrote Rue based off his own experiences with addiction, and he is a white man so that Rue could have been that. Rue had no description," Zendaya revealed. She said her "ultimate goal" is to create opportunities for more Black people in the entertainment industry.
"I'm very grateful, and hopefully, I'll be in a space like these ladies where I can create things and make space for women who look like me and women who don't look like me," she added. "That's the ultimate goal, to make room, [because] for a lot of Black creatives, it's not a lack of talent but a lack of opportunity."
There is a significant Black Lives Movement shaking up Hollywood. Recently,
in an open letter to Hollywood, Black writers are calling for Hollywood to become more accountable and support aspiring and working writers.
Following the killing of George Floyd by police officers, there is a new Black renaissance we have not seen since the Civil Rights Movement of the late 60s and 70s. Now, after many Hollywood studios announced their support for Black Lives Matter, writers are calling for better accountability and the end of systemic racism in the film industry.
According to a report by the Los Angeles Times, Black writers are looking for Hollywood to redo their hiring practices to allow for more progress among writers and content creators of color in the industry.
"We Black writers who have 'made it' in Hollywood have still been denied jobs at all levels, passed over for opportunities we were qualified for, rejected from writers' rooms because of a 'lack of experience,' unsupported when seeking to create content specifically for Black audiences, critically underpaid and mistreated compared to white counterparts, and historically ignored during awards season," the CBW wrote in the letter.
YouTube is spending $100 million to support Black creators. "At YouTube, we believe Black lives matter, and we all need to do more to dismantle systemic racism," YouTube CEO Susan Wojcicki wrote in a blog post where she revealed the multiyear fund "dedicated to amplifying and developing the voices of Black creators and artists and their stories."
"The execution of George Floyd — and Breonna Taylor and Ahmad Arbery — has led to unprecedented protests for racial justice in every part of our nation — and globally. And it started in part because 17-year-old Darnella Frazier defiantly and courageously recorded the video that has forced us all to confront what we were seeing and name it," said Malika Saada Saar, a civil and human rights lawyer and social impact human rights lead at YouTube. "Video can be a powerful human rights tool for bearing witness to injustice, and Bear Witness, Take Action will be part of that hope and urgent call for change." 
Project Casting Entertainment News: