Bad Boys 4, 5, and 6 is in Development (Report)
HOLLYWOOD, CA / USA - JANUARY 14, 2020: Will Smith and Martin Lawrence at the Premiere Of Columbia Pictures' "Bad Boys For Life" held at TCL Chinese Theatre on January 14, 2020 in Hollywood, Ca. (Silvia Elizabeth Pangaro / Shutterstock.com)
Hollywood's beloved action-packed franchise is back in a big way! With the announcement that Bad Boys 4, 5, and 6 are in development, Will Smith and Martin Lawrence fans can rest easy knowing their favorite buddy cops will be back for more adventures on the big screen. From the initial announcement to any casting news or teasers about plot details - this news report will keep you informed of all the latest developments with Bad Boys 4, 5, and 6. So strap in and get ready for some serious action - because it looks like Mike Lowrey and Marcus Burnett are here to stay!
It took years before we finally saw a sequel to Bad Boys 2, but, according to reports, Will Smith and Martin Lawrence could be reprising their roles as Mike Lowery and Marcus Burnett for the foreseeable future. In 1995 the Bad Boys franchise helped launch the actors from sitcom actors to action movie stars. It was the directorial debut for Michael Bay, and in 2003, the sequel is one of the biggest action movies of all time.
The third installment was in development hell after many years. Seventeen years later, the duo returned for Bad Boys For Life, filmed in Atlanta, Georgia, and Project Casting had the opportunity to share casting calls. Bad Boys For Life scored the most significant box office numbers in the franchise and is still ranked as one of the highest-grossing movies of 2020 after making almost $425 million worldwide.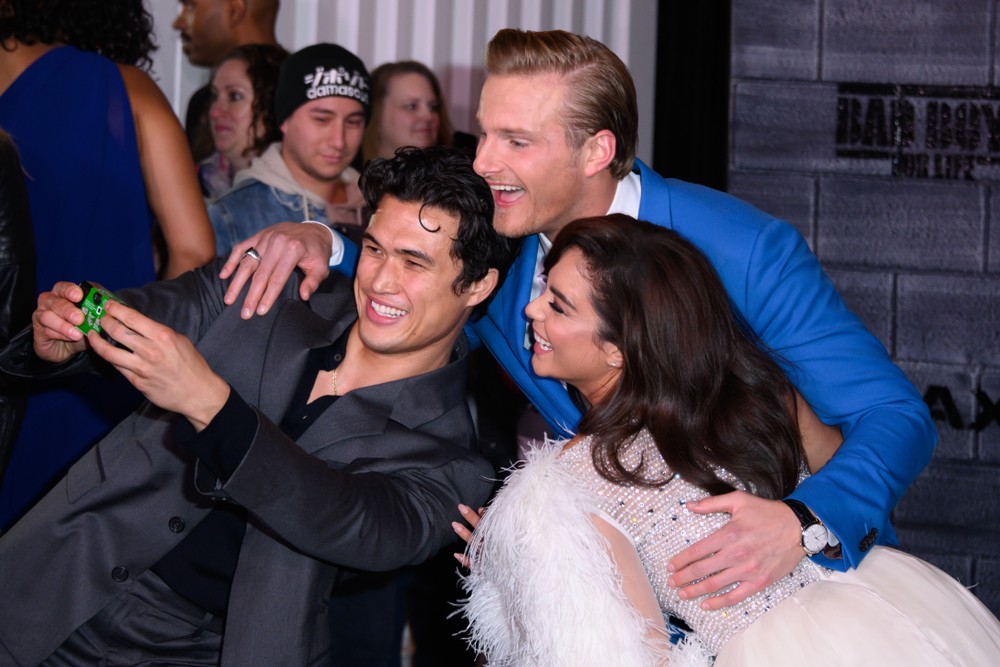 HOLLYWOOD, CA / USA - JANUARY 14, 2020: Charles Melton, Vanessa Hudgens, and Alexander Ludwig at the Premiere Of Columbia Pictures' "Bad Boys For Life" held at TCL Chinese Theatre on January 14, 2020 (Editorial credit: Silvia Elizabeth Pangaro / Shutterstock.com)
Bad Boys Sequels
A fourth movie was given the green light nearly as soon as Bad Boys For Life had debuted with a $62 million weekend and received acclaim by fans. According to reports, fifth and sixth movies are also in development as Sony is looking to capitalize on its success. No details are available now, but the studio is looking for their next hit production, so this is not much of a surprise.
Directors Bilall Fallah and Adil El Arbi have updated the franchise to the modern era, and the result is a third Bad Boys movie that is action-packed, funny, and pleasantly sweet. Recently, the movie's directors told The Wrap, they talked about doing a fourth film.
"At this point it's more of if the audience wants it, we are more than ready to make a fourth one, and I think there is still a story to tell," the duo said.
Last May, there were reports that Sony was interested in making another movie quickly after the release of Bad Boys 3. In fact, reports surfaced, writer Chris Bremner was tapped to write the script for a sequel. However, Sony has yet to make an announcement for a fourth Bad Boys movie since then. That said, according to The Wrap, that does not mean productions are not preparing for a fourth movie.
Officially, we do not have any reports about the future of the series, and the ending of the movie could definitely push for a future franchise film. Bad Boys for Life could be setting up the franchise for future adventures with Mike Lowery (Will Smith) and Marcus Burnett (Martin Lawrence), along with their team of millennial crime fighters.
Currently, a fourth Bad Boys movie is not officially on the way. But Sony had planned to do another sequel, and the latest Bad Boys For Life movie definitely sets the table for another serving of action-packed hijinks.
About Bad Boy franchise:
Bad Boys started in 1994 as an action-comedy directed by Michael Bay. In Michael Bay's directorial debut, the movie was produced by Don Simpson and Jerry Bruckheimer and starring Martin Lawrence and Will Smith as two Miami narcotics detectives, Marcus Burnett and Mike Lowery. Even the movie did not have amazing reviews, Bad Boys did exceedingly well in the box office. It launched the Bad Boys trilogy, which includes two sequels including Bad Boys II and Bad Boys for Life.
The series has earned over $840 million worldwide. The first and second movies received mixed reviews while the third movie had a generally positive reception.
In January 2020, a fourth film entered development, with Chris Bremner serving as the screenwriter. Will Smith and Martin Lawrence will reprise their roles from the previous movies.
L.A.'s Finest
In October 2017, a spinoff TV series centered around Gabrielle Union's character was announced. NBC ordered the pilot episode of the series. By March 2018, Jessica Alba was cast as the co-star with Gabrielle Union. In addition, Union, John Salley reprised his role as Fletcher, a computer hacker who helped Mike and Marcus in the film franchise. Later that month, NBC passed on the show and it was shopped around to other streaming networks.
Sony Pictures negotiated a deal with Charter Communications about picking up the series. Charter gave the series order on June 26, making it Spectrum's first original series. In June 2019, it was renewed for a second season.
Bad Boys For Life Cast:
The film's cast includes Will Smith, Martin Lawrence, Paola Núñez, Vanessa Hudgens, Alexander Ludwig, Charles Melton, Kate del Castillo, Nicky Jam, and Joe Pantoliano.
What We Know About the Movie 'Bad Boys 4'
Bad Boys for Life was a surprise blockbuster hit, with excellent box office returns, critical praise (yes, really), and fan excitement after the last playing of Lowrey and Burnett in Bad Boys II seventeen years ago. Will Smith and Martin Lawrence proved they still had the action chops, deadpan humor skills, and onscreen chemistry to lead the latest installment but to carry the franchise into the future.
Fans who have been paying attention may recall that a fourth installment was mentioned years ago when the return of Lowrey and Burnett was announced. Sony Studio was strangely quiet about the status of Bad Boys for Life in the weeks leading up to its release, with no confirmation whether this is still the case. The Bad Boys 4 was given a signal with all due speed once it became clear that the third adventure would sweep the box office during its first weekend, which set a new January opening record. (via The Hollywood Reporter).
When will it release?
First and foremost, there is no release date for Bad Boys 4 yet; however, according to THR, the aim is not to be quite as long a wait between Bad Boys II and Bad Boys for Life. Given that the previous film was released in 2003, this falls firmly into "we should hope not."
It's reasonable to assume that Sony will want to seize the opportunity while it is still available, and it's worth noting that in those early reports revealing the projects in 2015, the Bad Boys 4 was said to come two years after the third film.
It's also worth noting that getting Will Smith's schedule to line up with everyone else's was one of the significant roadblocks to the screen for the third film. In 2003, Smith may have been on the verge of superstardom, but he is a megastar nowadays — and there's no doubting that Bad Boys wouldn't exist without him. Smith always has a jam-packed schedule of future projects, as usual, and we're going to go ahead and guess that Sony will do anything it takes to have Bad Boys 4 in theaters by 2023.
What's the storyline of Bad Boys 4?
Unfortunately, the stinger doesn't offer us much information about this situation; but it'll have something to do with Armando. Since the youngster spent his entire Life being brainwashed by a ruthless drug lord's wife to be a killer for a Mexican Cartel, it stands to reason that he has inside knowledge on a variety of international criminal organizations, so we're guessing Bad Boys 4. We might see Detective Mike Lowrey and Marcus Burnett attempting to deal with some shady new group, which Armando is affiliated with.
However, because the plot of Bad Boys 4 was leaked on IMDB, we may still be able to get a hint at the film's narrative. Before the film's official announcement, the page (which had most likely been created around the time those initial 2015 announcements were made) gave this brief story synopsis: "A modern, highly specialized police unit collides with the Bad Boys when a new threat emerges in Miami." A generic statement has Since been added to the page. However, I'm a massive fan of the first few Bad Boys movies and will be looking forward to seeing whether the series might continue. While no plot has been revealed for Bad Boys for Life yet, there is already talk of Chris Bremner writing the fourth season.
The plot device of a "highly specialized police unit" clogging up the works for Burnett and Lowrey may be inserted into the film.
Who is the cast of Bad Boys 4?
Smith and Lawrence will most certainly be back for Bad Boys 4, even if the rest of the cast is a mystery. Paola Núñez will likely reprise her role as Rita. The boys' fellow officer; in the film's final episode, she is promoted to the rank of Captain, and Lowrey and Burnett.
They will need to have somebody busting their asses since their prior boss, Captain Howard (Joe Pantliano), was assassinated during the film's climax.
Furthermore, the film's mid-credits scene has Armando (Jacob Scipio) playing a role in the fourth season.
It turned out that Lowrey was his biological father, having had an affair with his mother while deep undercover after he spent the whole of For Life attempting to kill Lowrey for his long-ago involvement in bringing down his parents' cartel. The youngster murdered a few individuals and is now in jail, but the stinger implies that Lowrey may be willing to assist with a new case in return for his help with a future possibility — one likely to serve as the foundation of the film's plot.
Will the Original Director of Bad Boys 4 be back on track?
As you know, noted Michael Bay — who directed the first two Bad Boys films — missed out on the third movie, but it was only to keep costs down; Bay receives a comparable salary to Smith. In Bad Boys for Life, Bay had a little part; since the franchise has shown that it may still make bank without him, it's unlikely he'll return for the fourth season.
Belgian directors Bilall Fallah and Adil El Arbi, who was tasked with overseeing Bad Boys for Life for their first major Hollywood assignment, acquitted themselves very well; its success ensures that their star will be on the rise. However, their potential involvement in Bad Boys 4 isn't a given, considering a straightforward fact: they found out the toss had been greenlit the same way everyone else did.
Will Smith Slapping Chris Rock
The internet was recently abuzz after Will Smith, one of Hollywood's most beloved and respected actors, was caught on video slapping his colleague Chris Rock in the face. The incident has sparked a large debate, with some people claiming that it was a harmless prank between friends while others believe Smith unacceptably crossed the line. But what does this mean for the careers of these two stars?
The incident has caused shockwaves throughout the entertainment industry, and many wonder how this altercation will affect both Smith and Rock's professional lives and the future of the 'Bad Boys' franchise.
Relevant News:
In relevant news, Will Smith's production company, Westbrook inc, is now hiring in Los Angeles, California. Amid the Coronavirus pandemic, millions of Americans are out of a job, furloughed, or switching careers. Now, Jada and Will Smith's production company, Westbrook, inc., is hiring people to join their team.
The company has stellar staff, including high profile industry influencers and executives. Deadline describes the vision as, "The idea behind Westbrook Inc. is to leverage the Smith Family's experience and success in entertainment and media along with their proven success in new media and technology landscapes and bring it under one roof. The goal is to create and curate effective and inclusive content across all major platforms – from short and mid-form digital content to more classic television series and motion pictures." More Project Casting Entertainment News: