6 Actors That Used Social Media NOT Talent To Land Major Roles
Here are six actors that use social media to land major movie roles.
Who ever said acting talent matters, never had an Twitter account.
As Project Casting reported last week,
actual acting talent
. Something that Hollywood A-listers have known all along. You may have not noticed this but, several A-list actors have used social media to show why they deserve the roles they want. Making it big in Hollywood may seem like a mystery. Sometimes its all about the looks, the talent and attitude of someone who should make it big, but for one reason or another it just never happens for them.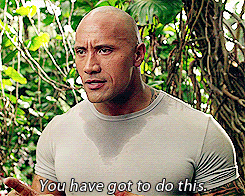 Well, the following actors are not sitting in their rooms waiting for Hollywood to knock on their door. Instead, they are taking their career into their own hands by using social media to get their foot in the casting director's door.
Dwayne 'The Rock' Johnson - Black Adam
While talks to have Dwayne 'The Rock' Johnson appear in a superhero movie have probably been in negotiations for years, Dwayne Johnson has not been quiet about his desire to have a role in the DC cinematic universe.
Green Lantern (John Stewart) and Black Adam are my fav superheroes, but GL's already been made and stamped. #RockTalk @CFitzyy

— Dwayne Johnson (@TheRock) March 25, 2014
Given the fact that he saved his
puppy
from drowning. Dwayne 'The Rock' Johnson is like a real-life superhero. Six months after that tweet, he confirmed that his dreams had come true when he was official cast to play the villain, Black Adam, in
Shazam.
"Kneel at his feet or get crushed by his boot." My honor to become.. #BlackAdam #TheAntiHero #DCComics pic.twitter.com/Qk55eNf3R7 — Dwayne Johnson (@TheRock) September 3, 2014
Blake Cooper - The Maze Runner
This young actor knew how to use social media to get the attention of casting directors, producers, and movie executives. 14-year-old Blake Cooper told
News.com.au
how he used Twitter to get in touch with
Maze Runner
director, Wes Ball:
"It all started with my friend Olivia. She messaged me on Facebook that this movie was coming up which was based on her favorite book. She said I should check it out because she thought one of the roles, Chuck, would be perfect for me.
I sent him a tweet asking if I could audition and at first he didn't notice but a lot of fans noticed and they started making fan fiction and it was really cool. Everyone was tweeting the director to let me audition and he noticed and decided to give me an audition."
Soon afterwards, Blake Cooper took to Twitter to tell his new fans that it worked.
Everyone welcome our Chuck to our Maze Runner cast. Blake Cooper. @followblakecoop

— Wes Ball (@wesball) April 20, 2013
Tom Holland - Spider-Man
About a year and a half ago, Tom Holland posted the following photo on Instagram. This probably the time he started testing to play the role of the newest Spider-Man.
After posting that photo, Tom Holland was making it his mission to use social media to prove that he should become the next Spider-Man.
Tom Holland will make his first appearance in Captain America: Civil War, when it hits theaters on May 6, 2016. Vin Diesel - The Inhumans The fan favorite actor Vin Diesel has already made a name ofrhimself in the Marvel Cinematic Universe for saying "I am Groot" a milion times. But, being as active as he is on social media, it makes sense that he would turn to his Facebook page to gain support for a role in the 2019
Inhumans
movie.
While there is no confirmation of his involvement in the movie at the moment, I think it only makes sense Vin would get some more screen time with Marvel, since he has such a large social media following.
Steve McQueen - Nightwing
The Vampire Diaries
actor Steven McQueen has been extremely open on social media about landing a role and joining The CW's DC Universe as Nightwing. It all started in 2013 when McQueen tweeted the following picture:
Nightwing training @ARROWwriters @GBerlanti @KyleDHiggins @RapaportCasting pic.twitter.com/1YN5IrBVC4

— Steven McQueen (@McQueeninchains) November 9, 2013
Steve McQueen later said he was joking and the executives behind TheCW have denied his involvement in Arrow or any other DC shows. But, that hasn't stopped the actor from trying.
Tyrese Gibson - Green Lantern
Tyrese Gibson has been a major advocate of using social media in order to land a role in a movie. For months now, Tyrese Gibson has been on various social media accounts building up support for the role of Green Lantern. With his fans rallying behind his campaign, Tyrese Gibson has been posting regularly about his interest in playing John Stewart in a DC Universe movie. The Green Lantern mission is still well under way, but he is not the only actor petitioning for a role on Green Lantern. Actor from Tyler Perry's House of Payne, Lance Gibson posted an image building up support for the role of Green Lantern.
It looks like Tyrese Gibson could have a bit of competition on his hands.
Also Read: