Netflix's 'Black Mirror' Casting Director is Now Casting a Principal Role for a New TV Series
LOS GATOS, CA/USA - JULY 29, 2017: Netflix corporate headquarters and logo. Netflix specializes in and provides streaming media and video-on-demand online and DVD by mail. (Ken Wolter / Shutterstock.com)
Disney's Mulan and Netflix's Black Mirror casting directors are now casting the lead principal speaking role for an upcoming TV series.
Casting directors are looking for "dynamic East Asian or South East Asian girl aged 18 years" to play a lead role in the TV series. Jina Jay, casting director behind Black Mirror and Star Wars: Rogue One, is now casting lead speaking roles for a "confidential" tv series PoPing AuYeung's recent casting credits include Disney's Live Action Mulan, Crazy Rich Asians, and MEG.
Producers are seeking the following types:
Must speak fluent English
Shooting will take place from June 2019. Must be available to work between June 2019 and February 2020.
6-year option, which means the actor must give priority to this TV series over other film/TV work for 6 years.
No acting experience is required.
Submit the following to:
PoPing AuYeung: if you are based in Canada or Asia: [email protected]
Jina Jay: if you are based US, UK or Europe: [email protected]
A headshot and full body shot taken with your cell phone (No filters, photoshop, digital manipulation)
Along with self-introduction video in English ONLY that must not be longer than one minute. No or very little makeup.
A brief resume or bio in English that includes contact info, city of current residence, performing experiences, if any.
Please include a reel if you have one.
In the subject line of the email, state. "Jenny" your name / city of current residence/ phone number ( i.e. "Jenny" Mary Lee / Toronto / 416 - 999 - 8888)
Deadline: ASAP and no later than Oct. 30, 2018
There is no fee to submit. Any such claim is fraudulent.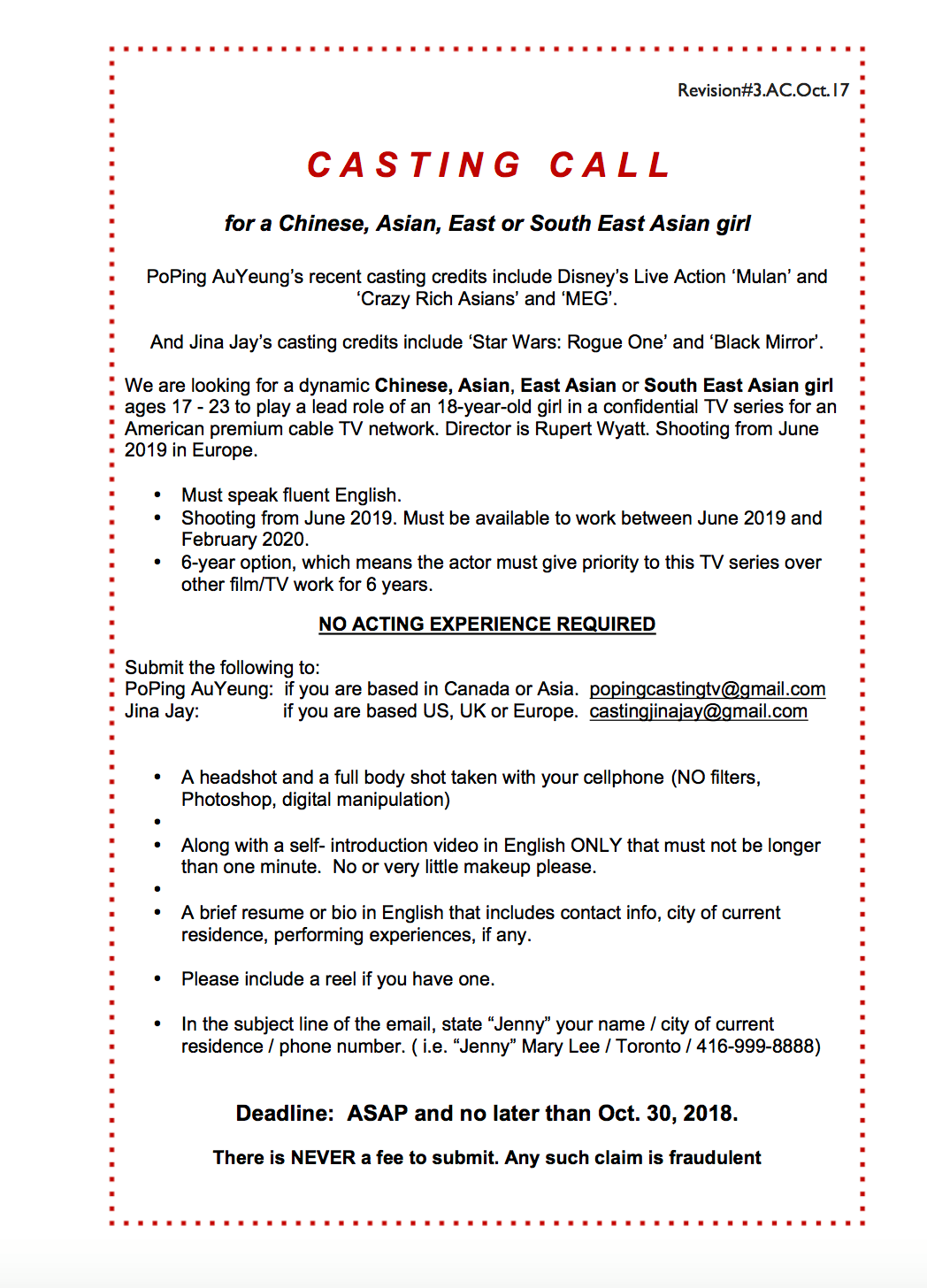 About the Show:
Details for the new TV series have not been released. However, according to Indiewire, Director Rupert Wyatt is now directing the new Showtime series HALO. Kyle Killen will work as the writer and showrunner, whose previous credits include The Beaver and Mind Games. The Rise of the Planet of the Apes director Rupert Wyatt will direct multiple episodes.
Said David Nevins, Showtime President and CEO, in a statement: "Kyle Killen's scripts are thrilling, expansive and provocative, Rupert Wyatt is a wonderful, world-building director, and their vision of HALO will enthrall fans of the game while also drawing the uninitiated into a world of complex characters that populate this unique universe."
What do you think? Discuss this story with fellow
Project Casting
fans on
Facebook
. On Twitter, follow us at @projectcasting.
If you are not local and/or do not fit the description, do not apply