5 Things Atlanta Actors NEED to Know Before Moving to LA
While Atlanta's film industry is thriving, leading roles tend to go actors that live in the Los Angeles area. So, many actors have to debate when is the right time to pack up your bags and move to the West Coast for bigger acting jobs. Recently, actors on Reddit discussed their experiences living in Los Angeles and shared tips every actors should know before moving to Los Angeles.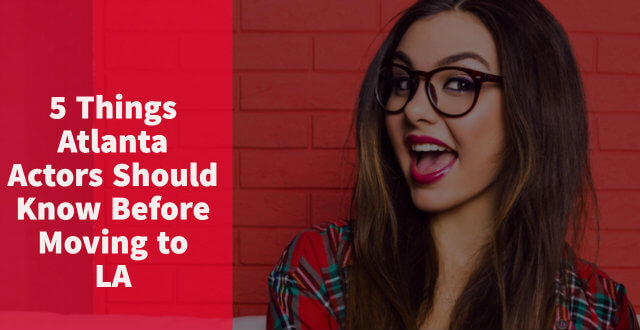 It's really competitive
Moved from ATL two years ago! It's fucking hard. I moved without knowing anyone or anything, so I lost the network I had accumulated while living in Atlanta. Not being connected is a major pitfall in any industry, but more so in ours y'know? If you already know some people and have connections, you're already a step ahead! It's obviously more competitive here than there (tbf I haven't been actively pursuing work in Atlanta lately haha), so maybe talk to your agency and ask for an introduction to west coast representation or see if they can rep you bicostal? I honestly can't imagine moving back. I sat and watched the sunset on the beach and reflected on moving earlier this evening, actually.. I honestly don't know why I didn't move here sooner. - 
MDMAmonster
Try getting an agent in Los Angeles, NYC and Atlanta first.
Would it be impossible to maintain a residence/place to stay on both coasts? I'm a tri-state area resident (NY/NJ/CN) and can't imagine leaving here permanently because of the acting opportunities here but Los Angeles is where everyone goes to try to do the acting thing and ATL has a fast, up-and-coming movie/tv scene. Honestly, I'm doing my best to get involved in all three because of the exposure factor but the West Coast is last on my list for financial reasons while still being a viable goal. - 
QuietRulrOfEvrything
It's really expensive
Don't move directly into Hollywood proper. It's a revolving door. Look at the Valley or to the east side for your first place. Unless you're loaded, then move wherever the hell you want. Westside Rentals is the devil. Yes moving to LA is worth it. If you dont, you'll always wonder what if. Prepare for things to be VERY expensive. The people are nice, though, just don't be a dick. The only dicks are pretenders, has beens and predatory psychos. Everybody knows them when they see them. Be cool, do good work and things will happen. Yes, while always meeting people and making connections. - 
HilarityEnsuez
Build your acting credits first
I have a good friend who started out in Atlanta and came to LA. He had a lot of good credits in Atlanta which gave him a head start in finding a good agent out here. Theatrical agents care about credits...yeah you're going to have to start over when it comes to auditioning and meeting CDs here, but a great agent knows how to get you in the room. It is more competitive out here in LA, but I'd rather be in a small fish in a big pond than big fish in a small pond. Hollywood would never die. There will always be productions out here, despite all the tax credits that are happening elsewhere. -
numa_numa
Need some more information? Here's what you should know before moving to Los Angeles:
What do you think? Share with us your thoughts int he comments below.