The Walking Dead: Steven Yeun Begged Producers to Kill Off [Spoiler]
Steven Yeun says Glenn's death on The Walking Dead may affect him for the rest of his life.
The Walking Dead 
and its fans said goodbye to one of the series' most beloved characters, Glenn. Glenn was always a major part of the show and the voice of reason for Rick and the gang, and his departure is going to leave a huge hole for audiences from now on. It was an emotional moment for fans of the show, but it also seems to be harder on the actors as well. Lauren Cohan, who plays Glenn's wife Maggie on the show, broke down in tears when asked about the premiere during the New York Comic Con. The emotion of losing her TV husband became so real that she was unable to hold it together. Steven recently appeared on the most recent cover of
Entertainment Weekly
, and he opened up to the magazine about how Glenn's death has affected him. At one point in the interview, Yeun explains that dropping a persona can be extremely emotional.
"This is something that will hit me maybe a couple of months from now," he says. "Or maybe it'll hit me next year. Maybe it'll be when I'm 45 and all of a sudden I'm just crying in my kitchen and I can't explain why. At that point, it was beautiful in that it was so easy for me to get emotional. Personally, for me, I'm not one to cry all the time. I don't cry much in real life. And when you do not cry in real life, the moments that you do cry are very, very fulfilling and cathartic. You realize, maybe I should cry more in general."
It's also important to point out that Steven Yeun begged producers to kill Glenn off the show.
Speaking on Talking Dead, Yeun recalled, "You read that comic, you kind of don't want that to go to anyone else. It's such an iconic moment and I think I even said, 'Don't give that to anybody else.' It's such a gnarly thing to say but sincerely, living that out was very wild but at the same time, that moment happening and being realised on television in a different medium and to do it in the way that we did it I think is brave and at the same time super affecting."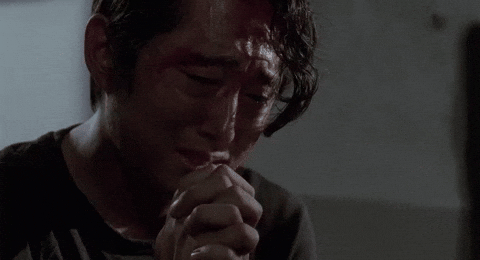 He continued: "Still not thinking about himself. It's appropriate that he ends there, and it's also appropriate that he kind of puts those last words out there as a final 'look out for each other.'"
The Walking Dead season 7 will show the survivors trying to understand their life under Negan's rule, while attempting to recover from the grief of losing Glenn and Abraham.
What do you think? Discuss this story with fellow
Project Casting
 fans on 
Facebook
. On Twitter, follow us at @projectcasting.