How Nicki Minaj's Traumatic Childhood Inspired the ABC Family Sitcom
Nicki Minaj reveals her troubled and horrific childhood is her inspiration on producing a sitcom about it. But, why?
On Tuesday, ABC Family announced the rap superstar will produce a scripted comedy series inspired by her own life. The new show will be based on when Nicki Minaj and her family immigrated from the U.S. from Trinidad in the early 1990s. According to the announcement, the series starts filming in Minaj's hometown this winter and "will focus on her growing up in Queens with her vibrant family and the personal and musical evolution that led to her eventual rise to stardom."
"Nicki is an international superstar, yet not everyone knows how inspiring and hilarious her true story is," said Karey Burke, ABC Family's executive vice president of programming and development. "And we can't wait to share it with the world." [Washington Post>
It is true that the details surrounding Nicki Minaj's past are far from funny. Minaj, who will occasionally appear on the show, has spoken publicly about her rough upbringing. Here's
an excerpt from a Rolling Stone story in 2010
:
When I first came to America," [Minaj] says, "I would go in my room and and kneel down at the foot of my bed and pray that god would make me rich so that I could take care of my mother." Minaj's father was a violent drug addict once set their house on fire while her mother was inside. She has no qualms about sharing these stories, even though her parents still live together and her father would prefer that she not share their history. "It's the price you pay when you abuse drugs and alcohol," she says. "Maybe one day your daughter will be famous and talk to every magazine about it, so think about that, dads out there who want to be crazy.
She also talked about her father in an interview for
a cover story for Vibe
: "I thought we would just be happy, but with a drug-addicted parent there is no such thing as being happy. When you have a father who is stealing your furniture and selling it so that he can buy crack, you suffer," she said. "You come home from school and your couch is gone. You're like, 'What happened?'"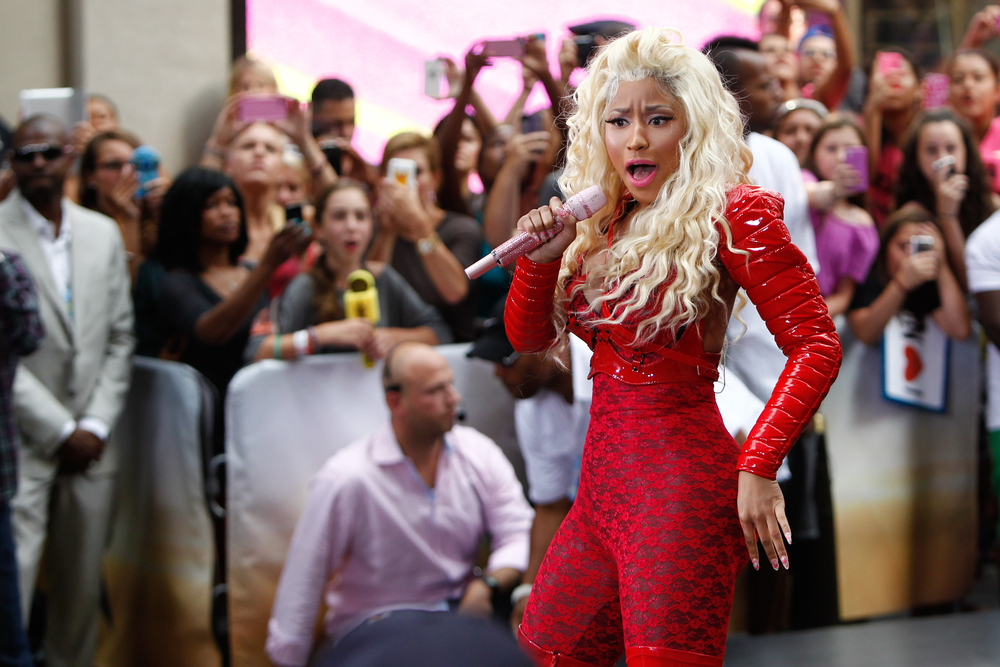 Nick Minaj first started crossing over to the mainstream in 2012 when she sat for an interview on
Nightline
and told similar stories: "My father was abusive," she said,
via quotes from the New York Daily News
. "We were afraid for (my mother's) life because whenever he would have a real bad outburst, he would threaten to kill her." After that interview, TMZ investigated her personal life and the site quoted anonymous Minaj family members who claim the rapper was exaggerating about her past, and her father was "crushed" to see those quotes, which
included her saying
, "I felt a lot of anger. I wanted to kill him. I wished he was dead." As for Minaj's new TV series on ABC Family, the network confirmed the show will focus on these scenarios: "It's a comedy about the lighter aspects" of Minaj's life, a spokeswoman said. However, ABC Family is also going to focus on her past on and how it impacted her life and eventual evolution into a rapper/singer/actress. Which will probably shed light on Nicki Minaj's alternate personality she developed as a child.
From New York Magazine
:
Her dad was an addict who sold the family's furniture to buy drugs; her mother, a nurse's aide, struggled to keep a stable home. "To get away from all their fighting, I would imagine being a new person," Minaj says. "'Cookie' was my first identity—that stayed with me for a while."
Related Nicki Minaj Stories: