Leonardo DiCaprio Reveals Why He Never Starred in a Sequel
Here's the real reason why Leonardo DiCaprio has never starred in a sequel movie.
Leonardo DiCaprio is one of Hollywood's hottest actors. Essentially, every movie he appears in is Box Office magic and fans fall in love with the actor over and over again. But, did you know that DiCaprio has never done a sequel? Well, in an interview with
Variety
, the actor explains why he has never decided to do a sequel. And it apparently has to do with the fact that he likes a movie that has an ending.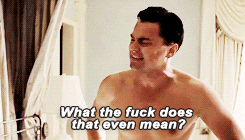 "To me, every movie that I've done has been its own piece of individual art," DiCaprio said. "That's not to say I wouldn't do something that has sequels. Some of the greatest movies in the world — 'The Godfather' — have had sequels. 'The Godfather 2' is fantastic. You read a script, it's got a beginning and an end. It's hard to envision that being resurrected again. It just hasn't happened." But Inarritu teased him that he's ready to break that streak. "We're planning 'The Revenant 2,'" he said, as DiCaprio rolled his eyes. "That would be funny. Pre-production starts tomorrow."
What do you think? Is this a good idea? Should we expect Leonardo DiCaprio to do a superhero movie in the future? Share with us your thoughts in the comments below!