Eminem: Workout DVDs Saved My Life
Eminem has recently revealed his battle with drug addiction and what he had to do to overcome it.
In an emotional magazine article how the addiction caused him to balloon to 203 pounds, Eminem reveals that a drug overdose changed his life forever. In an article for
Men's Journal
, Eminem explained how he was frequently taking pills like Vicodin and Valium and drinking alcohol until he suffered an overdose in December 2007. It was then, he says, that he realized how much weight he had gained.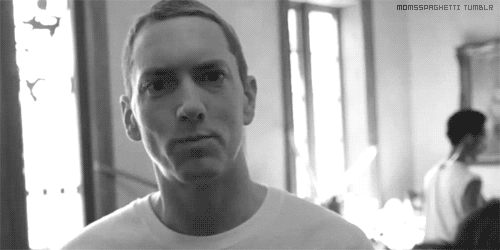 'In 2007, I overdosed on pills, and I went into the hospital. I was close to 230 pounds. I'm not sure how I got so big, but I have ideas." He adds: 'The coating on the Vicodin and the Valium I'd been taking for years leaves a hole in your stomach, so to avoid a stomachache, I was constantly eating - and eating badly.' The 42-year-old rapper would order steak from an expensive restaurant almost every night, causing him to pile on weight, break out in pimples and have other health issues, according to his mother Debbie Nelson. He became depressed and anti-social, she added. He was also talking several prescription drugs, including Vicodin, a pain killer that treats severe pain, and Valium a medication that treats anxiety and muscle spasms. When he was admitted to a hospital after his overdose, doctors reported that he was clinically "obsese" and close to the "very obese" mark. In addition, Eminem revealed that his organs were shutting down. Eminem would later be released from the hospital but, a month later he would relapse again forcing him to enter a rehabilitation facility. After rehab, he realized that he needed to lose weight.
'I also needed to figure out a way to function sober,' Eminem writes in the Men's Journal article.
'Unless I was blitzed out of my mind, I had trouble sleeping. So I started running.'
However, while his treadmill sessions helped him to sleep, he quickly became addicted to them.
Soon, he was running 17 miles a day like a 'f***ing hamster' and scrutinizing the number of calories he was burning. He dropped to 149 pounds and began to suffer injuries such as muscle tears.
Eminem decided to 'dial back' and try out another means of working out - exercise DVDs.
'I know a lot of these DVD guys are wacky, but I'm alone in my gym; I need someone on the TV yelling to motivate me. Besides, some of this s*** is entertaining,' the world-famous rapper writes.
One of the first DVD's Eminem tried out was Shaun T's Insanity, which promotes a challenging workout routine. He said he loved it so much he quit running altogether. But, after Shaun T's workouts stopped working he changed to the P90X workout program and finally to the Body Beast workout, which he continues to do every morning. Eminem has sold over 172 million albums and he is one of the world's best-selling and highest paid artists in the world.