The Real Reason Why 50 Cent Declared Bankruptcy
50 Cent just declared bankruptcy and things don't look too good for the New York rapper.
50 cent is broke. Well, that's what he's claiming in a new personal bankruptcy case filed Monday as the rapper, whose real name is Curtis Jackson III, was scheduled to testify in a $5 million sex tape trial. Last week, a Manhattan jury handed down the verdict after little over an hour of deliberation. The six jurors found that Jackson, as part of his rap beef with rival Rick Ross, posted a private sex video featuring Rick Ross' baby mama online to millions of viewers. The woman, Florida resident Lastonia Leviston, sued 50 cent in 2010 claiming the video nearly drove her to suicide. 50 Cent was supposed to hand over a net worth statement plus his state and federal tax returns for the past five years on Monday so the jury could calculate punitive damages in addition to the initial $5 million award for Leviston's emotional distress. The disclosure would give the world a rare look into the entertainer the 
New York Times 
calls a "Renaissance Man" who enjoys Versace shirts and has "exceptional business instincts."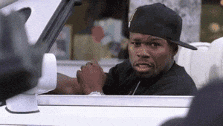 But, the initial Chapter 11, Connecticut bankruptcy filing says Jackson has $10 to $50 million in assets and $10 to $50 million in liabilities. 50 cent had tried to avoid the sex tape trial earlier this year by filing for bankruptcy on behalf of his boxing promotions company, but a federal judge ruled that the civil case must go forward. Source:
NYPost
Discuss this story with fellow 
Project Casting
 fans on 
Facebook
. On Twitter, follow us at @projectcasting.