40 TV Shows That Have Stopped Filming Due to Surging COVID-19 Deaths in Los Angeles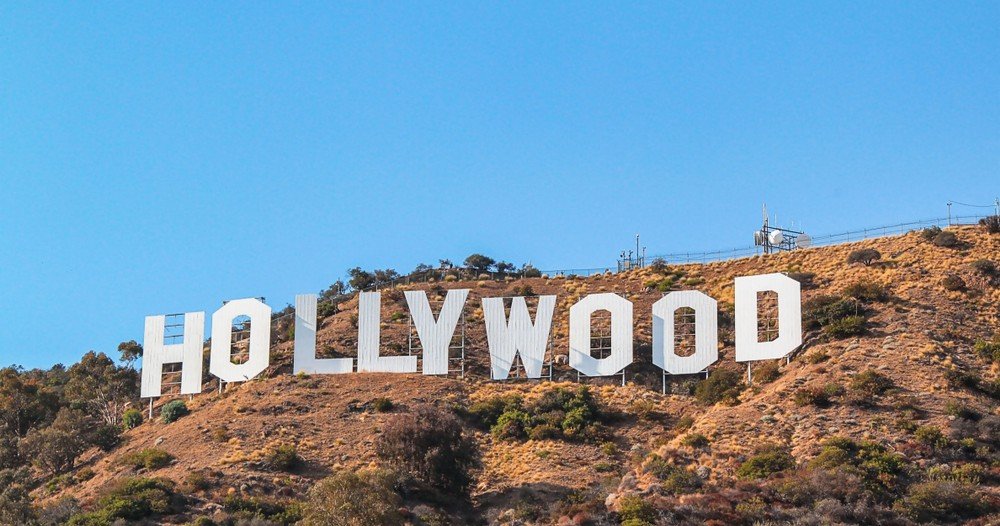 HOLLYWOOD sign on blue sky background. World famous landmark. USA. Los Angeles, California. 09-11-2012. - Image (Mulevich / Shutterstock.com)
Studios are responding to the Los Angeles County Department of Health plea to the film industry to shut down productions for a few weeks during the ongoing surge of coronavirus infections. Studios reviewed their production schedules including talent availability, to see if they could shut down.
According to Deadline, here's a list of TV shows, which stopped filming due to the Coronavirus COVID-19 surge in Los Angeles, California.
The Goldbergs
Atypical
Jeopardy!
Wheel of Fortune
Grey's Anatomy
Station 19
American Housewife
Black-is
Mixed-is
Rebel
This is Us
9-1-1
9-1-1: Lone Star
Last Man Standing
American Crime Story: Impeachment
American Horror Story
Mayans M.C.
Big Shot
The Orville
Love, Victor
Mr. Mayor
Kenan
Good Girls
Never Hav I Ever
Hacks
Brooklyn Nine-Nine
All American
Bob Loves Abishola
B Positive
Mom
Shameless
You
Lucifer
Young Sheldon
The Ellen DeGeneres Show
NCIS
NCIS: Los Angeles
Seal Team
Why Women Kill
Diary of a Future President
It is important to note, most of these shows plan on resuming filming between January 11th and January 22nd.
(November 2, 2020)17 TV shows, and movies now filming in Los Angeles
Los Angeles currently has five feature films, five movies and seven reality shows filming this November 2020. According to FilmLA, the city and county's film permit office, reveals the following list of productions now filming in LA.
TV Shows
On The Verge
L.A. Undercover
Feature Films
Limbo
Soggy Bottom
Waking Up Dead
Without Remorse
Reality Shows
Dancing with the Stars
Dog Impossible
The Con
Wheeler Dealers
Botched
Celebrity IOU
Guy's Grocery Games Delivery
Commercials shooting around Los Angeles include ads for NFL, Facebook, Bank of America, Toyota, Nissan, CIGNA and Harry & David.
FilmLA president Paul Audley says there is "No way it will be back at normal numbers this year, or until next spring at the earliest."
There could be other productions now filming but, FilmLA data does not include production filming in certified sound stages or on-location in jurisdictions not served by the agency.
Here are the nine next movies to film in California.
(UPDATE: August 17, 2020) The Coronavirus is creating a frustrating atmosphere for filmmakers across the country. Hollywood is attempting to resume production amid new safety procedures. Now, nine new features are planning to film in California.
The California Film Commission has announced its latest round of movies that the state selected to receive film tax credits from the state's incentives program. The four studio and five independent titles include Russo brothers action-thriller Gray Man, Jessica Chastain drama Losing Clementine, Octavia Spencer sci-fi movie Invasion, and a currently untitled Jordan Peele movie.
Other productions include Phil Lord and Chris Miller horror movie Sweetwater, which centers around the first African American basketball players in the NBA.
Gray Man is a major production starring Ryan Gosling and Chris Evans. The Netflix project is a huge win for California, which lost many major productions to Georgia and the United Kingdom, who both provide more lucrative film tax credits. The movie is expected to bring $102 million in wages and other qualified expenditures.
Nine films are set to generate $284 million in state expenditures. They are expected to hire 1,340 crew, 342 cast members, and 14,397 background actors and stand-ins over the course of 374 filming days in California.
Independent projects include Losing Clementine, Nightfall, and Sweetwater and were in the under $10 million-and-under qualified spending category, which saves funds specifically for lower-budget indie films.
"After announcing two relocating TV series earlier this month, our new tax credit program continues to get off to a great start with today's list of film projects," said California film commission executive director Colleen Bell. "Production activity is ramping back up in California amid COVID-19 with safety remaining a top priority, and Program 3.0 is attracting the kind of big-budget films that will generate a considerable amount of jobs and in-state spending."
Here's the full list of movies filming in California this Fall 2020
Faster, Cheaper, Better
Gray Man
Invasion
Losing Clementine
Nightfall
Sweetwater
Untitled DOR
Untitled Jimmy Warden Project
Untitled Jordan Peele Project
Here are the 12 movies set to film in California this summer 2020.
The California Film Commission announced on
Monday
they have 12 feature films that were selected to receive film tax credits in the state with California's film incentives program, which starts on July 1st. According to reports, four independent movies and eight feature films were selected. Among those selected include Universal Pictures' sequel 'Half Baked 2', Sylvester Stallone and Michael Bay's 'Little America, Fox's 'Lady of the House', and Amazon's Untitled Project starring Cate Blanchett and written by Aaron Sorkin. Other projects include a transgender teen drama 'Moonshadow' and Asian family drama series 'Ashes to Oceans'.
The Hollywood Reporter 
reports over 50 projects applied for film tax credits from March 9th to March 13th. Coronavirus COVID-19 pandemic delayed the announcement several months but, the news illustrates Hollywood is ready to get back to work. The California Film Commission has set aside $40.2 million in film tax credit for the 12 films. Together, a 12 movies are expected to generate $225 million in qualified spendings in California. In addition, the projects should hire approximately 1,745 crew, 543 cast members, and 14,668 background actors and stand-ins. They will also generate significant postproduction jobs for California talents. "Program 2.0 has accomplished precisely what it was designed to do, from creating high-wage jobs to encouraging more out-of-zone production," said California Film Commission executive director Colleen Bell. "As the industry begins to rebound from COVID-19, the launch of Program 3.0 will help continue to ensure that California provides an unparalleled value." "As a project with many trans and other gender non-confirming creative team members, cast and crew, it was essential for 
Moonshadow
 production to be based in a progressive state," EP Jude Harris said
Monday
. "California's tax credit program is making it possible for us to generate jobs and production spending here at home while working in a supportive environment." Over the last five years, the new program has given film tax credits to 243 movies and projects and generated an estimated $11 billion in overall spending, including $4 billion in qualified wages to below-the-line employees and $3.7 billion to state companies.
Here's the full list of movies to film in California this Summer 2020
Ashes to Oceans
The Black Hole
Dog
Dead Dads Club
Half Baked 2 
According to a 2019
report
, a sequel to the 1998 stoner comedy will star Justin Hires. Hires, who is most known for his work on 'MacGyver' announced on Instagram confirming reports, "Excited to announce I'll be writing the sequel to 
Half Baked
," he says. "Yes I know the original is a classic and yes this sequel will be [fire> because I'm writing it. Oh yeah, I write screenplays too." The sequel will follow the son of Dave Chappelle's character from the original movie. No other details were released. It is important to note, reports suggest Dave Chappelle will not be involved in the sequel.
Lady of the House
Disney/Fox 1992 set Florida drama
Little America
Action feature film from Michael Bay and starring Sylvester Stallone
Live Feed
Moonshadow
A transgender teen drama
Pursuit
The Test
Untitled Lucy and Desi Project
From Aaron Sorkin and will star Cate Blanchett as the legendary and loved comedian, Lucy. In related news, the Coronavirus has shaken up Georgia's film industry. That said, Georgia's film industry is on track for a come back. 
According to a statement by Gov. Brian Kemp, an estimated 40,000 production workers 
will find jobs at 75 projects, which are expected to start filming over the next 18 months.
The estimate will also impact other second-line businesses including 17,000 Georgia businesses. These production companies have added a huge impact on Georgia's economy. In fact, in 2019, nearly 400 movies and TV shows filmed in Georgia impacting 3,040 motion picture and television industry businesses.
"Production companies want to be in Georgia and create tens of thousands of jobs for workers across the state, and today's announcement is welcome news as we continue safely reopening our state,"  Governor Kemp said. "I thank the Georgia Film Office for their work during the pandemic, and I thank the production companies who always vowed to return to Georgia when the time was right for them to safely get back to work."
More Project Casting Entertainment news: