5 Famous Actors Who Were Bullied on Set
Here are famous actors who were bullied on set.
We would all love to believe that the actors in our favorite movies are best friends, drinking buddies and Snapchat friends. But, the truth of the matter is that this is not the case. Actors have been known to fight with one another during filming, and there are many reasons why this might happen. One reason is that actors are known to have big personalities with egos on top of it, and when big egos get together, something's bound to go wrong. Another reason may be due to artistic differences. Sometimes actors don't see eye-to-eye with one another, or they feel as though their co-stars aren't good enough. Here's the list of 5 famous actors who allegedly bullied their co-stars. We say allegedly because we cannot know for sure and a lot of these stories are based on personal accounts and rumors. But a few actors on this list have a reputation of being real life bullies.
5. Tommy Lee Jones and Jim Carrey
Tommy Lee Jones and Jim Carrey worked together on 
Batman Forever, 
a movie that both of them would probably regret ever making. According to Carrey, Jones was a complete jerk to him saying to him at one point:
"I hate you. I really don't like you… I cannot sanction your buffoonery."
Carrey remained professional int he face of Jones' bullying and still considers him a great actor. He thinks Jones was upset over the fact that one of Carrey's movies outperformed his film in the box office.
4. Bill Murray and Lucy Liu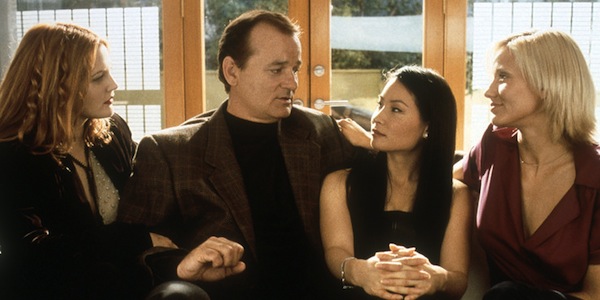 Who doesn't love Bill Murry? Apaprently, Lucy Liu. The two worked together on Charlie's Angels, and apparently they didn't get along at all. After Murray criticized Liu's acting abilities, she reportedly physically attacked him by hitting him repeatedly. There were also reports that he had head-butted the director of the movie, but those reports were later denied.
3. John Leguizama and Steven Segal
On the set of the '90s action movie 
Executive Decision, 
Leguizamo, played a soldier nick-named Rat, was minding his own business during rehearsals when something strange happened. Steven Seagal, who was playing Lt. Colonel Austin Travis, may have been taking his military role too seriously.
"We were in rehearsals for Executive Decision. I'm playing his Master Sergeant and we come in for rehearsals and he says, 'I'm in command. Everything I say is law. Anybody doesn't agree? I was like, 'Bwahahaha'. I started cracking up because he sounded like a retard and he came up and he Taekwondo'ed my ass against the brick and he [hit me with his elbow>."
2. Tom Hardy and Shia LaBeouf
Jaguar PS / Shutterstock.com Tom Hardy has a reputation for taking his acting career very seriously, both in his movies and in real life. He recently got into it with Charlize Theron on the set of 
Mad Max: Fury Road. 
She blamed the difficult filming conditions for his hostility, saying: "We f—in went at it… It was the isolation, and the fact that we were stuck in a rig for the entire shoot." However, this was not the first time Tom Hardy got into it with a co-star. In fact, he didn't get along with Shia LaBeouf on set of 
Lawless. 
The two even started fighting at one point, according to the actors. Hardy said, "I got knocked out by Shia LaBeouf, actually. In
Wettest County
, apparently."
1.Wesley Snipes and the director of Blade
According to Patton Oswalt, who starred in 
Blade: Trinity 
alongside Wesley Snipes, Snipes was hard to get along with onset of the movie. In fact, Oswalt argues:
"He wouldn't come out of his trailer, and he would smoke weed all day."
In addition, he allegedly tried to strangle director David S. Goyer, and at one point asked Goyer to quit the movie, to which the director responded by saying that Snipes should leave. After that, Snipes reportedly only communicated with the director through post-it notes, writing "From Blade" at the end of each note.
What are your thoughts? Share with us your thoughts in the comments below!