[WATCH] Jennifer Lawrence Trips at 'Mockingjay Part 2' Premiere
Jennifer Lawrence took a nasty fall during the Hunger Games: Mockingjay - Part 2 premiere.
Everybody loves Jennifer Lawrence. She's an A-list actress who is leading the charge for equal pay in Hollywood, she fought against starving herself in order to land the role in
The Hunger Games
and despite making millions of dollars a year JLaw's carefree personality still has not changed. Which is probably why everyone is going to laugh with Jennifer Lawrence after she took a fall in Spain.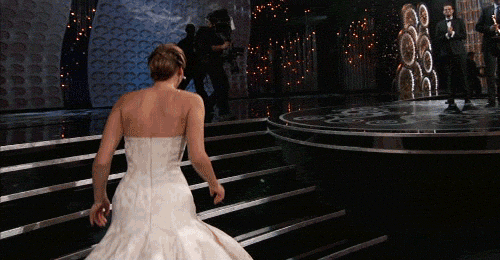 On Tuesday, the 25-year-old actress fell on the red carpet at the Madrid premiere of
The Hunger Games: Mockingjay Part 2.
From a fan-shot video that was later shared on Twitter, it appears that her heels got the better of her when the train on her gown got stuck underneath. But, the
Hunger Games
actress is a professional and recovered quickly, having tripped up the stairs at the 2013 Oscars while walking to the stage to accept the award for Best Actress. The actress defied all odds when she fell again at the award show the following year, making us wonder if she as doing it on purpose or if she should consider switching shoes. After falling so many times before, JLaw had no problem getting herself together to pose for photographers in one of the hottest outfits this year.
VÍDEO da hora em que a Jennifer se foi ao chão! Tadinha gente hahaha :') pic.twitter.com/88DLEXzzEb

— JLBR - 7 Dias! (@JLawrenceBrasil) November 10, 2015
Recent Jennifer Lawrence news:
What do you think of Jennifer Lawrence? Share with us your thoughts in the comments below!