3 Crazy Shocking Facts You Never Knew About 'Miami Vice'
How Jamie Foxx forced producers to rewrite and possible ruin the original ending of 'Miami Vice'
'Miami Vice' is called by many as a huge failure. But, behind the scenes the producers, cast and crew suffered impossible obstacles including Jamie Foxx leaving halfway into the movie. The 2006 'Miami Vice' feature film centered around two Miami police detectives, Crockett and Tubbs, who go undercover to fight drug trafficking operations. The film, written, directed, and produced by Michael Mann, is an adaptation of the 1980s TV series of the same name. The film stars Jamie Foxx as Tubbs and Colin Farrellas Crockett, as well as Chinese actress Gong Li as Isabella. On a budget of $135 million, the movie only earned $164 million making it a major disappoint in the box office.
But, there movie faced major issues from the beginning. Here are the biggest issues the movie faced while in production.
1. Hurricanes
'Miami Vice' was shot on location in the Caribbean, Uruagay and South Florida. However, the movie lost seven days of filming due to several hurricanes including 'Hurricane Katrina, Rita, and Wilma. The delays forced the movie to go over budget. In addition, several crew members criticized Mann's decisions during production such as filming in unsafe weather conditions, and choosing locations that "even the police avoid, drafting gang members to work as
security."
2. Jamie Foxx
It is interesting to point out that Jamie Foxx brought up the idea of 'Miami Vice' while filming 'Ali'. This led Michael Mann to revisit the series he helped create. However, once filming started Jamie Foxx frequently got into altercations with Mann. According to reports, Jamie Foxx refused to fly commercially, forcing Universal to give him a private jet. He also would not appear in any scenes on boats or planes. In addition, after gunshots were fired on set in the Dominican Republic, Jamie Foxx packed up and refused to return. This forced Mann to re-write the entire movie's ending, which some crew members characterized as less dramatic than the original. Jamie Foxx, who won an Academy Award, also complained about his co-star Colin Farrell's larger salary, which Foxx didn't reflect his new status as an Oscar winner; consequently, reports
Slate
: "Foxx got a big raise while Farrell took a bit of a cut."
Slate
also reported that Foxx demanded top billing after winning an Oscar.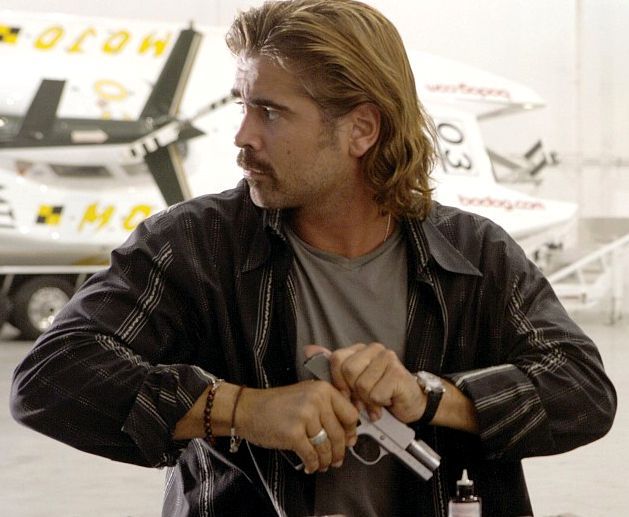 3. Drug Busts
In order to put his actors in character, Mann hired real FBI drug squads to bring Colin Farrell to drug busts so the actor could build up the character of Crockett even more. It was later revealed that those drug busts were fake but, he never told Colin Farrell.
'Miami Vice' could have been better
'Miami Vice' would open at No. 1 in the US, beating 'Pirates of the Caribbean' out of the number one position at the box office that weekend, after Johnny Depp led the box office for almost a full month. In its opening weekend, the film grossed over $25.7 million. The film would go on to earn $63.5 million domestically. 
Miami Vice
would do better internationally.
Overall the film grossed $164 million worldwide helping to further surpass the reported $135 million budget.