Black Man Found Hanging in Piedmont Park Was an Aspiring Actor
Police reveal shocking details about the Piedmont Park Hanging.
According to reports, last Thursday, London Jermaine wrote his final Facebook post. He said, "I see y'all in the next Life… Deadass ??? Father forgive me." Thirty minutes later, the 22-year-old Midtown Atlanta resident tied a white rope to a thick branch of a tree and then around his neck and hanged himself near the "Free Nelson Mandela" monument in Piedmont Park. A security officer later found his body hanging from a tree at 4:30 a.m. Friends later confirmed that he was a student at Georgia Tech, where he was studying computer science. According to reports, Jermaine was an aspiring actor and model who struggled with being openly gay because of his allegedly homophobic family.
"God doesn't born gay people. You make yourself gay," his mother writes. Jermaine added this status to the image: "My mother is teaching my siblings to dispise Gays.. I'm done with Life. I'm Hurt To The Core." A week later he shared a meme that said: "I don't understand why people think that having a gay child means they failed as a parent. Disowning your child means you failed as a parent."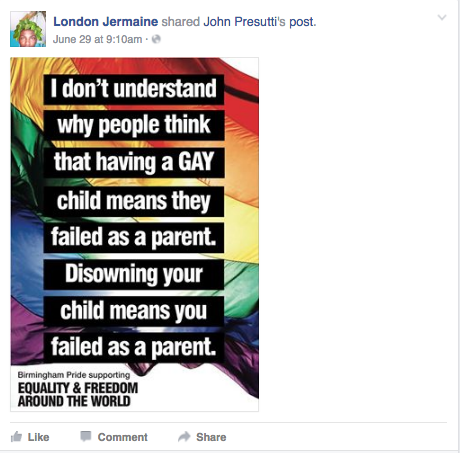 Atlanta Mayor Kasim Reed released a statement on Facebook:
I am deeply saddened by the loss of a young man's life last night in Piedmont Park. This disturbing event demands our full attention.
The Atlanta Police Department (APD) is conducting a robust investigation into his death and I have asked to receive regular briefings on the status of the investigation. We have also referred the case to the Federal Bureau of Investigation.
Everything we have seen suggests that there was no foul play involved, but I want to state clearly and unequivocally that we will not prejudge the circumstances surrounding this young man's death.
APD will share all evidence discovered in the course of the investigation. We ask for the public's support and cooperation as we work to resolve this matter.
The FBI later concluded that "a review of the findings… failed to indicate any signs of foul play." This news comes after reports swirled around the country that the KKK lynched an African American man in Piedmont Park. The news caught on like wild fire and many even claimed they saw the KKK in the park the night before Jermaine's death. Unfortunately, it was an troubled man dealing with his sexuality in America. R.I.P. London Jermaine you will be missed.
Via
The Gaily Grind
/Image Credit:
RollingOut
Related: