Emilia Clarke: I Want More Male Nudity on 'The Game of Thrones'
Game of Thrones
has millions of followers, fans and viewers from all over the world. But, did you know the TV series is helping dozens of former female adult film stars transition into acting jobs? While, there are hundreds of people people interested in seeing women undress on the medieval sci-fi series, one actress is looking for more male nudity.
Related: [WATCH> Game of Thrones Promo is Here and It's AMAZING
Emilia Clarke, is upset at the fact that women tend to get undressed far more often than men in the HBO series. In an interview with
Glamour,
she said: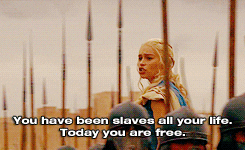 "I want to see Daenerys and her three dragons share the throne. Eat goat they've barbecued. And bring back all the pretty boys, get them to take their trousers down, and be like, 'I'm now the queen of everything! I'd like close-ups of all the boys' penises, please.'"
Related:
Equal-opportunity nudity is a new concept that has not gone mainstream in Hollywood yet. But, we will have to wait and see if Emilia Clarke's comments will have an impact on the new season of
Game of Thrones
or, if HBO producers will decide to pull the plug on the character.
Related: 'Game of Thrones' Actor is Pissed He Was Killed Off
What do you think? Share with us your thoughts in the comments below!