Channing Tatum Turns Down 'Magic Mike 3'
LONDON - JUN 30, 2015: Channing Tatum and Jenna Dewan attend the Magic Mike: XXL - UK film premiere, Leicester Square on Jun 30, 2015 in London (Twocoms / Shutterstock.com)
Channing Tatum is not interested in making another Magic Mike movie.
It looks as though Channing Tatum is done with the
Magic Mike
franchise. After a surprisingly successful
Magic Mike
and 2015's slightly less successful
Magic Mike XXL,
it appears as thought Channing Tatum is throwing in his stripper towel. The Hollywood Reporter reports that instead of a third movie, Tatum is focusing on creating stage plays in Vegas and Broadway.
"The third installment will be the show, and I think it has to evolve past these guys," he said of the stripper movies. "The first one was about Mike, the second one was about the guys and I think the third one is really about man and woman having a conversation about sex and themselves and who we all are. That's the next step I would like to take with the story."
It makes sense that Channing Tatum isn't interested in making another
Magic Mike XXL
movie. The movie didn't do very well in the box office. In fact,
Magic Mike XXL
earned 45 percent below the $49.6 million the original "Magic Mike" earned in its first five days in 2012.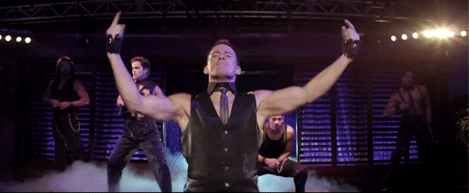 However, Channing Tatum is moving forward and thinking about live shows. He's made it clear in the past that he's interested in moving way from acting and looking towards directing. Besides, he's working on creating a
vodka brand
. IN addition, Channing Tatum is working on producing a TV series based on
Step Up,
the movie that made him famous. The new series will be the first scripted drama for YouTube, and will air on the subscription service, YouTube Red. Via
THR
Related:
What do you think? Share with us your thoughts in the comments below.