'Mr. Robot' Season 3 is Now Hiring Stand-ins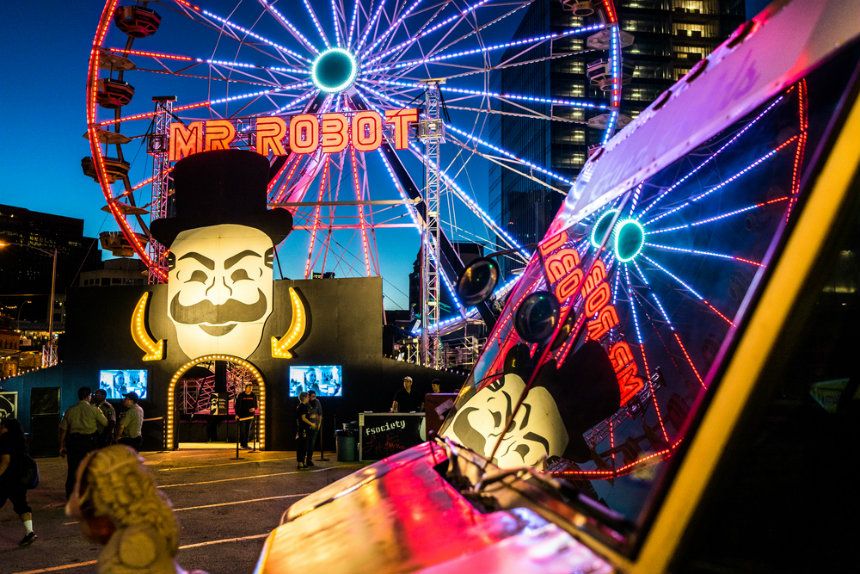 AUSTIN - MARCH 12, 2016: People walk by a carnival event for the USA television show Mr. Robot during SXSW. (stock_photo_world / Shutterstock.com)
Looking for a new job? Mr. Robot season 3 is now hiring stand-ins New York City.
Grant Wilfley Casting is looking for an actor to portray Rami Malek and work as a photo double/ stand-in in the new movie. You must be local to the tri-state area in New York City and available for a camera test on April 4th, if needed. Do not submit if you do not fit the description.
Mr. Robot follows Elliot Alderson, a young man living in New York City, who works at the cybersecurity company Allsafe as a security engineer. Alderson suffers from social anxiety disorder and clinical depression. He connects with people by hacking them, which often leads him to act as a cyber-vigilante.He is recruited by a mysterious insurrectionary anarchist known as "Mr. Robot", and joins his team of hacktivists known as "fsociety". One of their missions is to cancel all debts by taking down one of the largest corporations in the world, E Corp (known as "Evil Corp" by Elliot), which also happens to be Allsafe's biggest client.
---
To audition for a role on Mr. Robot, check out the casting call details below:
Mr. Robot Casting Call
GWCI is seeking SAG-AFTRA male to stand-in for Rami Malek 5'6 - 5'8 dark hair for UCP Project. Ongoing until September! Filming in NYC area. YOU MUST BE LOCAL TO THE TRI-STATE, NYC AREA! Must be available for camera test on 4/4 if needed! PLEASE DO NOT SUBMIT IF YOU DO NOT FIT THE DESCRIPTION!!!! If interested/available during this time please email current photos to
[email protected]
and change subject line to read "RAMI MALEK STAND-IN, FACEBOOK - SAG" and include your height, weight, jacket size, neck x sleeve, waist x inseam, shoes and 3-4 current photos that clearly depict your skin tone, hair color, and full body as well to see your physique! Please confirm you are a SAG-AFTRA member.
What do you think? Discuss this story with fellow
Project Casting
fans on
Facebook
. On Twitter, follow us at @projectcasting.
If you are not local and/or do not fit the description, do not apply