Allegedly, Suge Knight tried to have Eminem killed twice.
Suge Knight, the founder and CEO of Death Row Records, one of the biggest record labels in hip hop history, allegedly tried to have rapper Eminem, who signed with Knight's rival label Aftermath Entertainment, killed on two different occasions.
According to Eminem's former bodyguard, Byron "Big Naz" Williams, the first incident took place in 2001 during the Source Hip Hop Awards. "There was a situation at the Source Awards," said Big Naz in an interview with Murder Master Music Show, "which was our first encounter with Suge Knight and his henchmen.
"They had it to where the artists couldn't sit with the bodyguards. I think that was by design because I think they really wanted the artists to be able to network with each other, but it also gives people who got beef with other artists to get at them.
"I notice Em is in the aisle and he is beefing with all these guys in red shirts. This is what they said: 'Death Row motherf—–s. Suge Knight sent us to strong arm Eminem and it's going down.'
"I had to snatch him up, I had to call Dre and his bodyguards and tell them what was going on.
"I said, 'Look, I need you all to have that car around when I call you all. But the way they had it set up, the limos can only stay seated for, like, 30 seconds at a time in front of the red carpet for security reasons.
"So long story short, we ended up going backstage, Eminem did his presentation and we had to watch out for guys backstage. So I pretty much had to have him stand behind me and I just had to be on knockout mode, man.
"So it was me, Dre, Dre's bodyguards, we were in beast mode the whole time. So anybody that got anywhere close trying to get an autograph or trying to talk, trying to speak, they were gonna get laid out, man because that was the kind of atmosphere that was set up."
On the second occasion, Eminem was met by "20 Honolulu police officers" in Hawaii and told him that "Death Row is Here."
"When the plane lands we are greeted by 20 Honolulu police officers and they told us that Death Row is here, they tried to hem [Snoop Dogg] up.
"Suge Knight had sent 50 guys to try to break up the show. When we got there, vacation mode was over, we were locking and loading, putting on bullet proof vests with their wives and girlfriends sitting next to them.
"We had to have Interscope pick up the tab to put Honolulu police with each bodyguard, because of how deep Suge was over there."
Suge Knight is currently sitting behind bars after getting charged with murder and attempted murder after running a man over in California on set of Straight Outta Compton. Knight pleaded not guilty and is facing life in prison.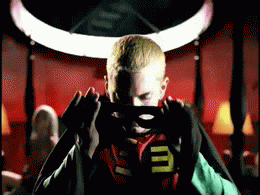 This news comes only a few hours after Eminiem is rumored to be working on a Drake diss track. Radio host Ebro Darden, explains "I told Drake I heard the rumour was Eminem was going to gear up to come after him."
"[Drake] laughed and said, 'that's not going to happen. He'll never do that. And if he did I got something for him too.'"
But, those rumors were quickly put to rest after Shady records co-founder Paul Rosenberg Tweeted out 'Slow news day." while also retweeting a Drake Tweet from 2009 reading "Eminem = Greatness".
Related:
What do you think? Share with us your thoughts in the comments below.