Michael Fassbender opens up about his role on Steve Jobs and it's pretty surprising.
Michael Fassbender's acting career is at an all time-high. He's been able to keep up with several major motion pictures as well as dabbing into smaller independet projects. Most recently, Fassbender starred in X-Men: Apocalypse and Steve Jobs. His next project is the highly anticipated Assassin's Creed and Alien Covenant.
However, despite having an amazing acting career, Fassbender does have some regrets. According to EW, following screening scenes from X-Men: Days of Future Past he didn't really like his acting.
"I don't actually like that performance there, to be honest…I just think it's me shouting. It's just like…some dude shouting."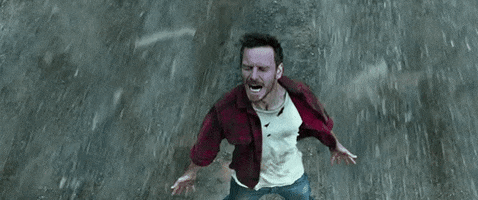 It's pretty surprising to hear an actor talk so openly about his issues with his own roles. His Magneto didn't have the character depth of Shakespeare's Macbeth but, it was still only a super hero movie.
But, Fassbender didn't stop there. He opened up about the hardest role he had ever had and it was for the Aaron Sorkin movie, Steve Jobs.
"He wrote all that stuff! It was so dense! It was such a mountain, and I'm a slow learner, so when the script arrived for me and the opportunity came to play the part, I really thought, This is not me. This should be somebody else. It's a miscast scenario."
Fassbender tried to come up with ways to get out of the movie. Including injuring himself.
"In rehearsals I was trying to find a way to get out of the job…I remember telling my driver, 'If I put my arm in the door, you should slam it. It should cause a break and it should get me out of this gig.'"
At the end of the day, Fassbender did a pretty great job playing Jobs, perhaps even better than Ashton Kutcher. However, his performance didn't transfer into box office sales as the movie flopped in the box office.
What do you think? Discuss this story with fellow Project Casting fans on Facebook. On Twitter, follow us at @projectcasting.