Many actors confess that the best part of acting is becoming one with the character. The research, the wardrobe, the mannerisms, movements, voice, and seeing everything from their perspective can really help an actor transform into another person.
Some actors go so far as to physically change how they look. That means, Hollywood A-listers are cutting their hair, losing an extreme amount of weight, start lifting weights, or gain a ton of weight in order to transform themselves into the character on screen.
Here are 7 actors that physically transformed themselves to get into character for a movie.
Vincent D'Onofrio – Full Metal Jacket
Despite being most known for Law & Order: Criminal Intent, Vincent D'Onofrio completely transformed himself for the Stanley Kubrick hit movie Full Metal Jacket. For the movie Vincent D'Onofrio gained 70 pounds taking him nearly seven months to put the weight on, and then nine months to take it off with rigorous workouts. It would later become the movie that would launch Vincent D'Onofrio's acting career.
Child actress, Christina Ricci, has played dozens of characters throughout her movie career. From working alongside Johnny Depp in Sleepy Hollow to starring as Wednesday Adams on Addams Family Values, Christina Ricci has a knack for getting into character even at an early age. So it should come to a surprise that the actress completely transformed ehr self for the movie Black Snake Moan. Black Snake Moan was directed by Craig Brewer, known for Hustle & Flow, and centers around a God-fearing Southern man (Samuel L. Jackson) who helps take care of a wild young woman who, as a victim of childhood sexual abuse, looks to men for love, but never quite finding it. During the pre-production of the movie, Christina Ricci reportedly started getting into character. This is what she had to say:
I felt that she should look really unhealthy. For the first half of the film, you don't ever see her eat—all she does is drink and take some drugs. I wanted to show that this is someone who can't take care of herself. I really wanted her to look incredibly fragile, because I wasn't going to be giving her an outward, emotional vulnerability.
Lily James – Cinderella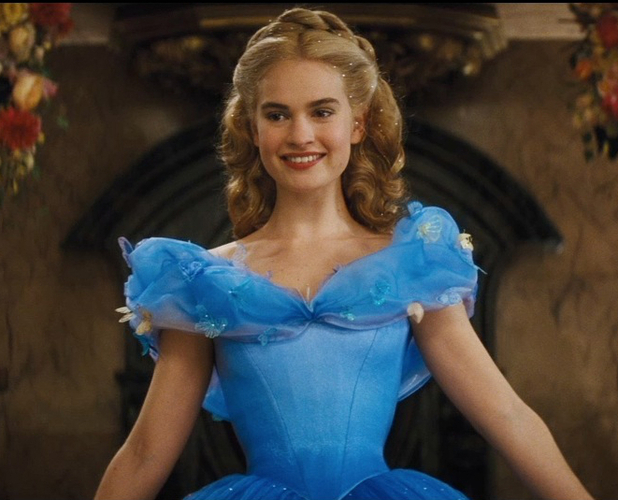 According to E! News, Lily James, the star of the upcoming Disney movie Cinderella went on a liquid diet in order to maintain her figure for the Cinderella dress.
"When [the corset] was on we would be on continuous days so we wouldn't stop for lunch or a lovely tea like this — you'd be sort of eating on the move," she told E! News. "In that case, I couldn't untie the corset. So if you ate food it didn't really digest properly and I'd be burping all afternoon in [Richard Madden]'s face, and it was just really sort of unpleasant."
Before taking up the role of Steve Jobs in the upcoming Steve Jobs biopic, Michael Fassbender pushed his body to the limit for the movie Hunger. Fassbender went on a medically monitored crash diet to get the starved looking body of Bobby Sands. The actor lost in total 33 pounds for the role.
Christian Bale is known for manipulating his body weight for each and every role he undertakes. From looking like a skeleton in the Mechanic to packing on muscle in the Batman franchise series, Christian Bale is the master of physical transformations. However, in the movie American Hustle, Bale gained 43 pounds, got a comb-over, and slouched his posture to portray the character Irving. Christian Bale gained so much weight that he ended up herniating two of his disks in his back.
Donnie Wahlberg – Sixth Sense
Donnie Wahlberg may not be as popular or as famous as his brother Mark Wahlberg but, he knows how to push his body to the limit for a movie role. In the movie, Sixth Sense Donnie Wahlberg lost 43 pounds for the role, according to M. Night Shyamalan. In fact, Wahlberg ended up playing the patient of Bruce Willis's character in the opening sequence. This role was originally intended for a 13-year-old boy until he met with writer and directorM. Night Shyamalan to inquire about obtaining the rights for a theatre production, and ended up getting the role.
Kevin James lost nearly 80 pounds going from 285 to 218 for the movie Here Comes the Boom. 
"I never wanted to do that. We wanted it to be realistic and wanted to be able to make it look like we knew what we were doing. They (UFC) don't need me. They were very reluctant to give that name out to anybody. (But) they knew the passion I had for the sport and how emotionally attached I was to it. The Fertitta brothers were fantastic, as was Dana. They knew that I wanted to do it justice and be as true to it as I could in the best way possible." [via]
Related Stories: