Atlanta Talent Agencies You Should Know
What's the difference between an aspiring actor and a working actor? Often times it's just a good agent.
Georgia's film industry is booming. There are dozens of movies and TV shows filming at one time in the state, with some of the biggest shows, including "Stranger Things" filming in the state. So you want to become an actor? Well, as we pointed out in our guide to becoming an actor, you must find yourself a talent agent. Here is our list of Atlanta talent agencies. While we can't recommend a specific Atlanta talent agency for you, we can direct you to a list of Atlanta talent agents and the best way to get into contact with the talent agency.
What is a talent agency?
A talent agency is a company that represents artists in the entertainment industry. These agencies book their clients for auditions and jobs in film, television, theater, and other venues. Many talent agencies also represent models and handle all aspects of their careers.
What do talent agents do?
The primary job of a talent agent is to secure work for their clients. They do this by submitting their clients' headshots and resumes to casting directors and other industry professionals hiring for projects. Agents also negotiate contracts and salaries on behalf of their clients.
How do I become a talent agent?
There is no one specific path to becoming a talent agent. Many people begin their careers in customer service or sales roles at agencies. Others start as assistants to an existing agent. Many talent agents also have previous experience working in the entertainment industry in another capacity, such as acting or casting.
What are some tips for working with a talent agent?
When looking for a talent agent, it's essential to research a reputable agency with a good track record of success. Once you've found an agency you're interested in working with, be sure to ask lots of questions and understand their policies and procedures before signing any paperwork. Being professional and courteous when communicating with your agent is also essential, as they represent you to potential employers. Finally, be prepared to put in the hard work required to succeed in the entertainment industry. Getting your big break takes time, patience, and dedication.
How to get a talent agent in Atlanta?
There are many ways to get a talent agent in Atlanta. You can research agencies online, attend industry events, or even contact agents directly to inquire about representation. However, the best way to find a reputable and experienced agent is through personal recommendations from people you trust who have worked with them or by searching for a talent agency through Project Casting's company directory. Once you've found an agency you're interested in working with, ask lots of questions and understand their policies and procedures before signing any paperwork. Being professional and courteous when communicating with your agent is also essential, as they represent you to potential employers. Finally, be prepared to put in the hard work required to succeed in the entertainment industry. Getting your big break takes time, patience, and dedication.
What do Atlanta talent agencies look for?
Every talent agency is different and will have its specific requirements, but in general, they are looking for artists who are disciplined, dedicated, and passionate about their craft. They also want to see that you have the drive and determination to succeed in the entertainment industry. Most importantly, they want to work with people who are fun and easy to work with! If you have all of these qualities, you're well on your way to impressing Atlanta's top talent agencies.
Related: How To Get a Talent Agent
The following is a talent agent list with recognized agencies and talent agents you can trust in Atlanta, Georgia:
Atlanta Talent Agencies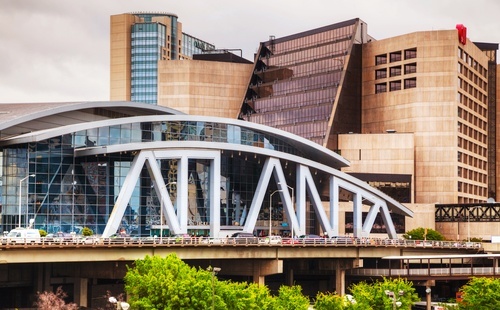 photo.ua / Shutterstock.com
East Coast Talent Agency, LLC (GA) 3 Central Plaza, Suite 344 Rome, GA 30161 (404) 660-7709
ECT is a full-service agency representing talent in the southeast for TV, Film, Commercial, Industrial and Print.
Gill Talent Agency, LLC (GA) 800 Forrest Street Atlanta, GA 30318 (404) 720-2774 The face of entertainment is evolving and we consider ourselves ahead of the curve. We aim to provide directors, production companies and advertising agencies the strongest multi-cultural and unique talent the region has to offer. We are committed to keeping a small yet strong roster of diverse talent that will ultimately result in a WIN-WIN for everyone.
Atlanta Models & Talent, Inc. Full Service (All Ages) 3098 Piedmont Road Suite 102 Atlanta, GA 30305
Established in 1959, Atlanta Models & Talent, Inc. is a full service, SAG (Screen Actors Guild) and AFTRA (American Federation of Television and Radio Artists) franchised agency. AMT has been providing professional talent for the film, video, commercial and television industries as well as the voice-over, new media, print and trade show markets for over 50 years.
Houghton Talent Inc. (GA) 919 Collier Road, NW Atlanta, GA 30318 (404) 603-9454
Celebrating 25 years in the industry, Houghton Talent, Inc. is a full-service agency - in TV/Film, commercial, voice-over, industrial, print, and live events.
Houghton has a reputation for an exceptional talent pool – primarily established actors, models and voice-over artists but we remain intentional about seeking new talent. We accommodate short turn-around times with ease and boasts one of the best options in town for presenting talent for consideration. Our team is experienced, available when you need us and privileged to work with amazing people pursuing their passion.
J. Pervis Talent Agency, Inc. (GA)
3050 Amwiler Road, Suite 200-C Atlanta, GA 30360 (404) 688-9700 J Pervis Talent is committed to a philosophy of quality over quantity. We pride ourselves in working very closely with our talent and clients to provide a personalized environment designed to foster long term relationships and career building opportunities. Our strong reputation within the industry has earned us the ability to work in the Los Angeles and New York markets providing our talent with opportunities in both the East Coast and West Coast Markets.
Littman Talent Group, Inc. (GA)
10 Glenlake Parkway, Suite 130 Atlanta, GA 30328 (818) 213-2288
assion is what sets LTG apart from other agencies. We love representing actors of all ages and stages. From youth to seniors; developmental to established; all are seeking one goal: To fulfill their dreams of being an actor.
Nothing gives us more pleasure than accomplishing this.
People Store, Inc. (GA)
645 Lambert Dr. Atlanta, GA 30324 (404) 874-6448 Launched in September 1983, People Store has been at the forefront of the industry opening the boundaries between Atlanta, New York and LA. In 2002, The Talent Group and Hot Shot Kids joined forces with People Store, creating a multi-million dollar agency representing the most talented and seasoned adult and child actors in the southeast.
STW Talent Agency, Inc. (GA)
695 Pylant Street NE, Suite 241 Atlanta, GA 30306 (414) 545-2188Susan found her love of acting at the age of 9 in her first stage performance of Happy Birthday Wanda June. After performing in over a dozen theater productions before college, Susan landed her first professional role at the age of 17 in the musical theater production of A Little Night Music in East Carolina's Summer Professional Theatre series. Over the years she has appeared in over 70 theatrical shows.
Burns Agency, The
Full Service – Adult
3800 BRETTON WOODS ROAD DECATUR, GA 30032 404-303-8995
With over 25 years of experience in the industry, we are able to assist you with your talent needs. We represent a diverse group of professionals with a wide range of skills, abilities and ethnicities.
Elite Model Management Corp/Atlanta
1708 PEACHTREE STREET NW, ATLANTA, GA 30309 404-872-7444
Elite was opened in NY in 1977 and immediately made a name for itself by challenging the status quo and developing the power of a model's image. This lead to the creation and definition of The Supermodel. Elite has represented and currently represents many of the most recognized and iconic faces of the past 35 years such as Linda Evangelista, Karen Elson, Andie MacDowell, Agyness Deyn, Veruschka, Gisele Bundchen, Caroline Trentini, Uma Thurman, Iman, Isabella Rossellini, Rosie Huntington-Whiteley, Tyra Banks, Janice Dickinson, Hilary Rhoda, Naomi Campbell, Jamie Bochert, Carol Alt, Cindy Crawford, Heidi Klum, Paulina Porizkova, Cameron Diaz, Stephanie Seymour, Amber Valletta, Nadja Auermann, and Cameron Russell.
Theatrical/Commercial (All Ages)
4461 BRETTON COURT NW SUITE 500 ACWORTH, GA 30101 770-529-0655
No one cares more for or about her talent than Jana. She works tirelessly to ensure that those she represents have the best chance at success. I count her not only as my agent, but also my friend. -
Delno Ebie
Sag Actor
Richard S. Hutchison Management, Inc.
3071 ARDEN RD. N.W. ATLANTA, GA 30305 404-261-7824
RSH Management represents Professional Voice talent across the United States, commercial, narrative and character.
The next step in finding an actor would be to learn if you should quit background extra work to become an actor. Overall, it is a long and hard process but, building your acting resume is the best way to increasing your chances to landing a good agent.
Continue Reading:
How To Become an Actor With No Acting Experience
Learn how to become an actor with no acting experience - 5 tips you should know before becoming an actor. One of the most commonly asked questions is how do I become an actor without...
How To Get More Instagram Followers
Learn how to get more Instagram followers. Read our step-by-step guide. Instagram is arguably one of the most significant and most influential social media platforms today. It has quickly grown from a photo editing application...
The responsibility for a screenwriter is to write the screenplay for a film, which includes the setting, dialogue, and tone. Screenwriter starts with a treatment before working on the first draft and is expected...
Discuss this story with fellow Project Casting fans on Facebook. On Twitter, follow us at @projectcasting.