How to Become a Screenwriter
The responsibility for a screenwriter is to write the screenplay for a film, which includes the setting, dialogue, and tone. Screenwriter starts with a treatment before working on the first draft and is expected to make multiple revisions.
Become a Screenwriter:
Job Description - Producers hire the screenwriter, who runs the filmmaking business. The goal of the screenwriter is to write the screenplay for a TV show or movie. The screenplay includes the tone, setting, and dialogue for each scene. Screenwriters are also hired to make revisions to a script.
Screenwriter Salary - A non-union writer could work for free. While an established screenwriter can get paid millions, wages depend on whether you're writing for a script or a low-budget project. It is common for low budget films to pay around $60,000 for each production and high budget films to pay well over $100,000.
How to Become A Screenwriter Summary
Learn how to write for TV shows and movies.

Train yourself on how to write TV pilots

Move to major production capitals including Los Angeles, New York City, and Atlanta.

Get a job as any Production Assistant.

Get a job as a Production Assistant on a TV show.

Get a job as a writer's Production Assistant on a TV show.

Network with executive producers.

Network with executive producers to work as a Production Assistant on multiple productions

Become a script coordinator.

Become a writer's assistant.
How to Become a Screenwriter Guide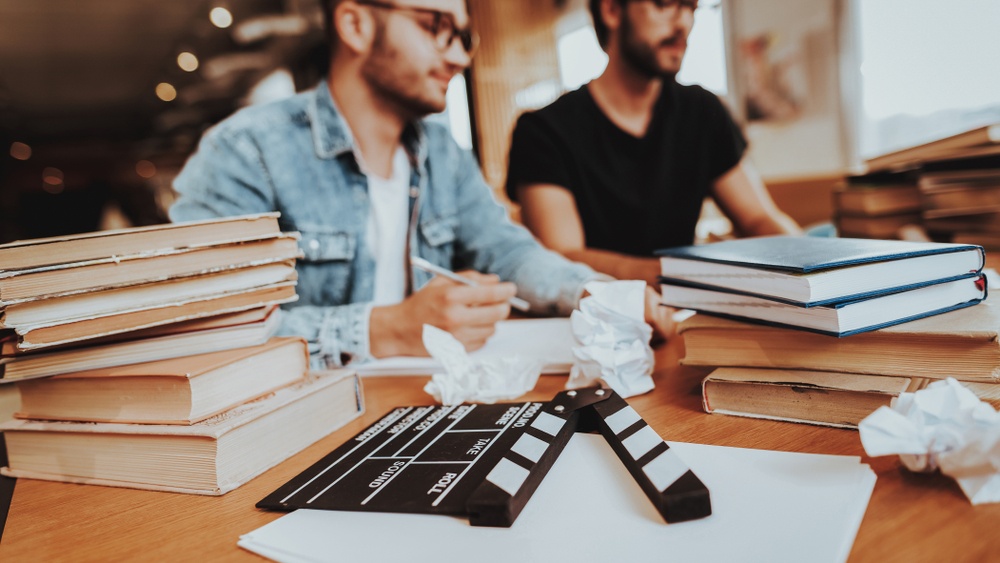 The movie and TV industry is changing. Getting an agent is not as important as it used to be. That said, it is important to get projects made to push your career further. It is also essential to build relationships with someone who is a director and producer. One great way to get your name out there is by creating content on YouTube, Instagram, and other social media platforms. Social media is an excellent way to build your name and status as influencers are gaining more recognition in the entertainment industry. Moreover, getting your projects to premiere at film festivals is another way to gain attention.
Another approach to consider is through television. It can be hard to break into the film industry by writing spec pilots. However, it is excellent financially. If a writer writes a TV pilot script, it can be great financially.
Education and training
A screenwriter needs to learn how to read screenplays before they can start writing a screenplay. Screenwriting is different than traditional novels, books or plays. They have a defined structure and formatting. A good way of gaining experience is by learning how to read books and scripts online.
Another avenue is by going to college and obtaining a Master of Fine Arts or taking classes online. The University of Southern California offers a Screenwriting course. The course description reads, "The foundation of this course is a series of writing assignments that address the building blocks of a good script. Students will learn how to use the specific tools of screenwriting in their work, and will write two short scripts."
Experience and Skills for Screenwriters
After getting a firm understanding of screenwriting, writers should also work on their English. Being able to write without grammatical errors, developing strong storylines and characters, and write content to keep audiences engaged.
One great way to become better at screenwriting is by writing short 5 to 20-page scripts to better understanding the formatting of a screenplay and write short stories. To gradually get better at writing, start writing longer screenplays. The longer screenplay may be terrible, but after a couple of revisions you will learn what works and what does not, but it is important to teach yourself."
Career Advancement for Screenwriters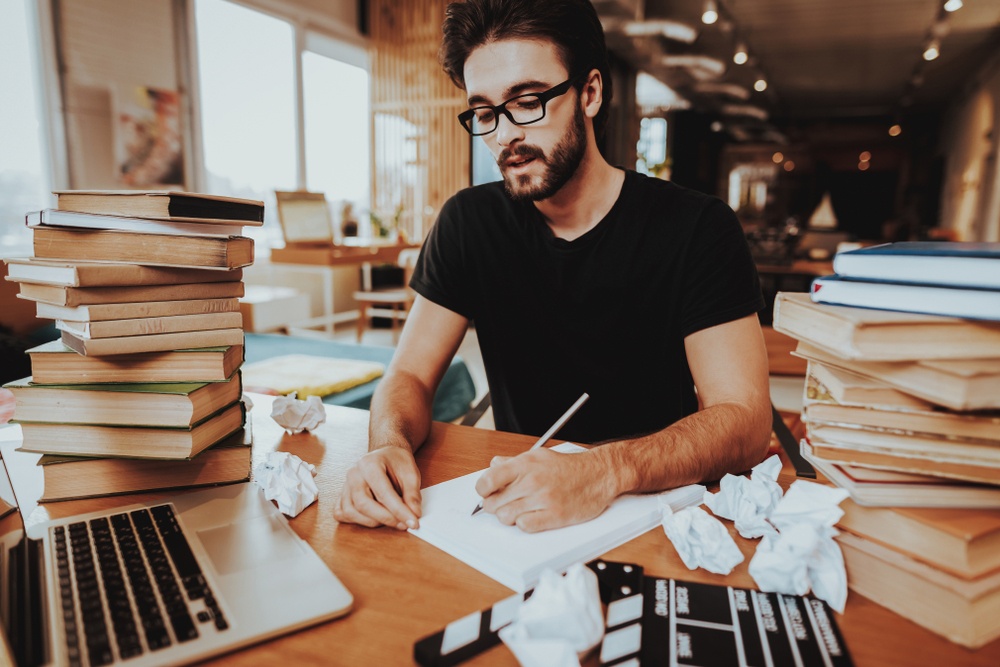 First Look Deals
Advancement for a Screenwriter leads to bigger and better productions. Screenwriters will work with other production companies, collaborate with a major studio, and have deals with a major distributor. A massive goal for a screenwriter would be to create a production company to produce their projects or landing a first-look deal.
What is a first look deal?
A first leak deal is a comes when a screenwriter writes a quite successful project. As a result, the studios will have the opportunity to review the plan first and determine whether they want to make it or not.
What's it like to be a screenwriter?
Usually, a screenwriter will work closely with a director or producer. They give notes and lead the story for production.
Many aspiring screenwriters will have to work a variety of jobs to support their careers. Many writers may work as teachers, take production meetings and work on their next project; This leaves time for writers to work on their next idea, story or production. As with many artistic careers, the responsibilities and process are different than a traditional 9 to 5 job. Moreover, a screenwriter must be motivated and dedicated to their craft. It is up to the writer to focus on making it happen. If a studio purchases their intellectual property, the writer will still have to work on the storyline and if any revisions are necessary.
Screenwriter Jobs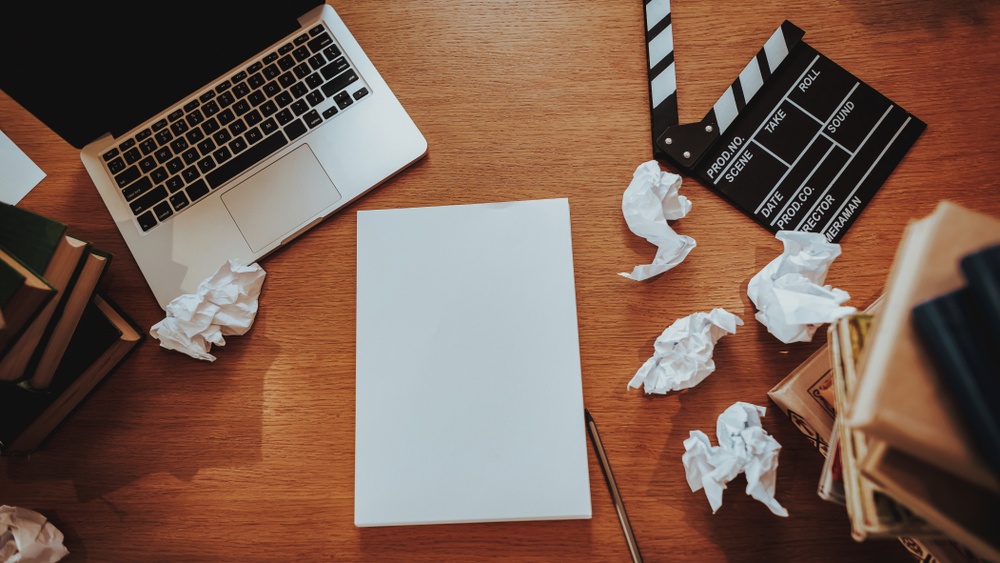 There is a lot of competition to be a screenwriter, especially in competitive markets like Los Angeles, Calfornia. An excellent approach to joining the film industry is by working as a production assistant and networking with producers, executive producers, and directors. These could lead to other opportunities and can help pay the bills.
How much does a Screenwriter Make?
Working as a screenwriter is typically an independent contract type of job opportunity where a studio sets a deadline, and an agency negotiates a flat fee for every rewrite. As a result, it is essential for a screenwriter to build a portfolio to establish themselves and meet with the right people who can hire them in the future. It is important to note, many writers are not hired for their own ideas but to work on someone else's project. This can be developing scripts, writing screenplays or doing rewrites. Learning how to write someone else's plans will make you more likely to get hired and work on your craft. Also, it's important to note of the time a Writer will either get credit for working on a project or paid.
Unions for Screenwriter
The Writer's Guild of America is a huge resource for screenwriters. The website posts blogs and have a service to register screenplays. This registration process protects the writer's intellectual property. Other great resources are screenplay competitions.
Continue Reading:
Become a Producer Job Description - The Producer runs the filmmaking business as they help the screenwriter write the script, casting directors to find the cast, hire the crew for the production, and find the money...
Become a Director Job description for Directors Directors have the job and duty to tell compelling stories through an actor's performance and visuals. They are in charge of pre-production, filmmaking, and post-production. How much does an actor...
Become a background actor Extra Career Description: A Background Actor is someone who works in front of the camera. Background actors arrive early on the set and are guided by the Production Assistant, who gives them...