Why the Cast of SNL was 'Scared to Death' of Chris Farley
Friends and family of Chris Farley react to the new documentary surrounding the life of the late comedian and actor and it's amazing.
A documentary about Chris Farley's life titled, 'I am Chris Farley' is hitting theaters on July 31. The new documentary will tell the life story of the SNL comedian who died of an overdose in 1997. Recently, Chris Farley's family and "Saturday Night Live" co-stars talked about his rise to fame and death. Including, David Spade who said he doesn't plan on watching the documentary himself: "I saw the trailer. When Chris comes up and cartwheels on 'Letterman,' it's like, oh, what a stab. It's gonna be a tear-jerker."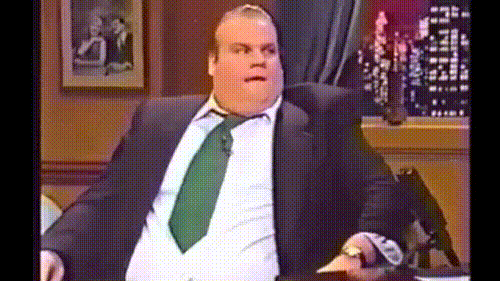 Some interesting details from the Chris Farley documentary: Chris Farley worked for his dad's asphalt company before signing up for improv classes at a local theater. He showed up for the 10 a.m improv acting class with a case of beer. Chris Farley would later join Chicago's world famous Second City.
Mike Myers ("SNL" co-star): "I improvised with Chris, and I was scared to death, because he had already knocked someone's tooth out and [given> someone else a scar just from being so crazy." Lorne Michaels ("SNL" producer): "I used to say he was the child Dan Aykroyd and John Belushi didn't have." Pat Finn (college friend): "He did everything to excess. When it came to drinking and other stuff, he got caught in a world he couldn't get out of." Kevin Farley (brother): "It was nice to see him doing well . . . He'd go down to Rochester Big & Tall and buy like 10 suits. He'd slick his hair back, and I'm like, 'who is this guy?' "
Chris Farley was later fired from 'Saturday Night Live' in 1995. He started working on movies. However, the young actor started gaining weight and began using drugs again. Farley would later die from an overdose of cocaine and morphine. Source:
NYPost