The Duggar Family is Pissed TLC Cancelled '19 Kids and Counting'
The Duggar children are pretty upset that their show '19 Kids and Counting' was cancelled following the molestation scandal involving their brother Josh.
According to reports, several of the kids are taking the loss of the show very hard because they thought they would "be on TV forever." 'The kids like being recognized and hate that the show is going away,' a family insider told
InTouch Weekly
. Some of the older kids in particular are really upset about the show's cancellation. These kids loved the spotlight and expected to be on TV forever,' said a source. '19 Kids and Counting' was cancelled last week by TLC two months after the surfacing of a 2006 police report alleged the oldest son Josh, 27, had molested five young girls when he was 14-years-old. Four of them were his sisters.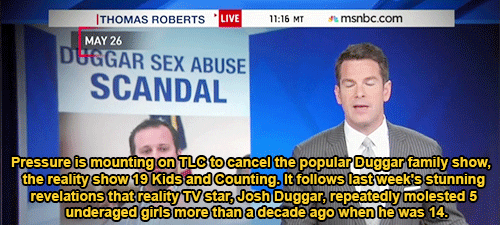 According to the insider, the family feels betrayed by the network. 'They think TLC should have stuck by them. They just didnt get a lot of sympathy,' the source said. 'They attacked everyone as part of their PR strategy, minimized what Josh did and turned it into an even bigger PR disaster.' In addition, the report claims that many of the family members are being rejected by the neighborhood. The Duggars are expected to lose as much as $25 million a year after TLC cancelled the show. According to InTouch, the Duggars are being paid for their participation in a one-off hour special documentary highlighting the sexual abuse and will feature two of Josh's victims, Jill and Jessa.