'Star Wars', 'The Revenant', 'Hateful Eight' Movies Leak Online
Star Wars, The Revenant and The Hateful Eight have both leaked online ahead of the movies' theatrical release according to reports.
The movies were already the top 10 most pirated movies of the week. Based on TorrentFreak reports,
Revenant
is the fifth most downloaded movie and
Hateful Eight
is currently sitting at 10th place as the most-downloaded feature film. In fact,
Hateful Eight
had been downloaded 220,000 as of Monday morning and
Revenant
had been downloaded 300,000 times. Surprisingly, everyone wants to see Robert De Niro in the movie
The Intern.

But, Star Wars:
The Force Awakens, The Revenant
and
The Hateful Eight is not alone.
Steve Jobs
,
Joy
,
Brooklyn
,
Room
and
Carol
have also leaked online. Typically, copies of movies are sent to Oscar judges in order to give the critics, filmmakers and judges time to review the movie before the Oscars.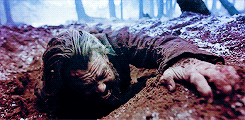 Therefore, it is pretty likely the movies were stolen or illegally shared online through an Oscar judge. However, this is not the case for Star Wars. But, it should not come as surprise that
Star Wars
was leaked online.
With one of the biggest box office premieres in history, millions of people have stood in line to watch the latest movie in the
Star Wars/ Disney
franchise. In fact, reports suggest that Star Wars: The Force Awakens made over $500 million dollars over the weekend and is on track to earn $2 billion dollars beating the Avatar franchise film. Who do you think leaked the movies? Share with us your thoughts in the comments below.