STUDY: Social Media Followers is More Important Than Acting Talent
A new study reveals why social media stars are taking over Hollywood.
Do you know what "Social Media Currency" means? Well, if you're an aspiring actor, model, or talent, then get familiar because it's the new way Hollywood is choosing talents for their new movies and TV shows.
What is Social Media Currency?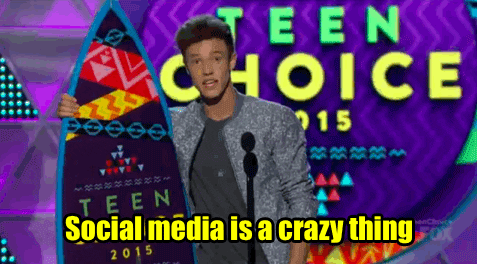 Social Media Currency
is defined as social media currency is the resources and abilities created and accessible through a man or woman's presence on social media. It is derived from the social capital theory, developed by the late French sociologist Pierre Bourdieu, who believed that a person's connection between groups increases their value to society. This new philosophy has transformed and taken a new meaning since the invention of Twitter, Facebook, Snapchat and Instagram, as
Hollywood producers and casting directors are more concerned with how many followers you have than actual acting talent. 
Why does Hollywood care about how many followers an actor has?
According to a new study by Central Intelligence, a top digital provider of celebrity contracts, news, events and information, in association with Econsultance has found that social media stars are landing more acting jobs and contracts than traditional movie stars. In fact, 
46% of companies involved in the study said they are working with a social media star. 
Meanwhile, 50% of companies said they are interested in working with movie stars. Without any acting talent, you are 4% shy from working with some of the biggest movers and shakers in the film industry.
How much money are social media stars making?
According to the study, companies pay social media stars between $15,000 to $150,000 per commercial campaign. And 50 percent of the agencies say their budgets increase for those type by 2017.
How to become a social media star?
Outside of gaining a large following, one content marketing manager reveals "they have to engage with their audience in order to be relevant with these brands and marketers." And being a celebrity and earning an Oscar does not allow you to connect with an audience the same way a social media star would. "The brands are looking not just at a celebrity but a celebrity who has an active social community and an engaged audience. That really, really matters."
Related:
What do you think? Share with us your thoughts in the comments below.