Ronda Rousey is Now Taking Acting Classes
Ronda Rousey reveals she is nervous about her acting abilities and is now taking acting and improv classes.
It's official, Ronda Rousey is going to replace Patrick Swayze in the remake of the classic bouncer thriller, 
Road House. 
But, not everyone is ready for the remake to start filming. According to
Entertainment Tonight
, Ronda herself is a little nervous about the new movie role.
"I think it's been a year or two that I've been pursuing that [role>. I'm like obsessed with Road House, I love Road House. … I can see why people would be hesitant to see a remake because it is such a classic. … In my own way I'm nervous. I get really nervous for fights, I get scared and stuff like that. The worst thing that's gonna happen is that I'll really suck and disgrace the name of Swayze and Road Houseness and everyone will hate me."
In fact, the MMA champion reveals that she will start taking acting and improv classes in order to prepare herself for the major motion picture.
"I'm gonna get a lot more experience before I tackle Road House.It's my first starring feature. Acting classes, improv. I'm gonna make everyone proud, I promise! I don't suck at things. It can't happen!"
According to ET, filming on 
Road House 
will begin at the end of 2016. That gives Ronda just over a year to improve her acting skills. She will get some hands on experience on the new action movie when she works alongside Mark Wahlberg in the movie 
Mile 22. 
At the end of the day, if Hollywood producers feel she is a terrible actor, they can just replace her dialogue scenes with fight scenes. Because we all know she can whoop some ass.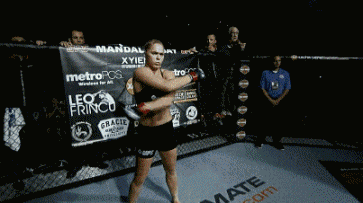 Related Stories: