Zoë Kravitz to Make Directorial Debut with 'Pussy Island'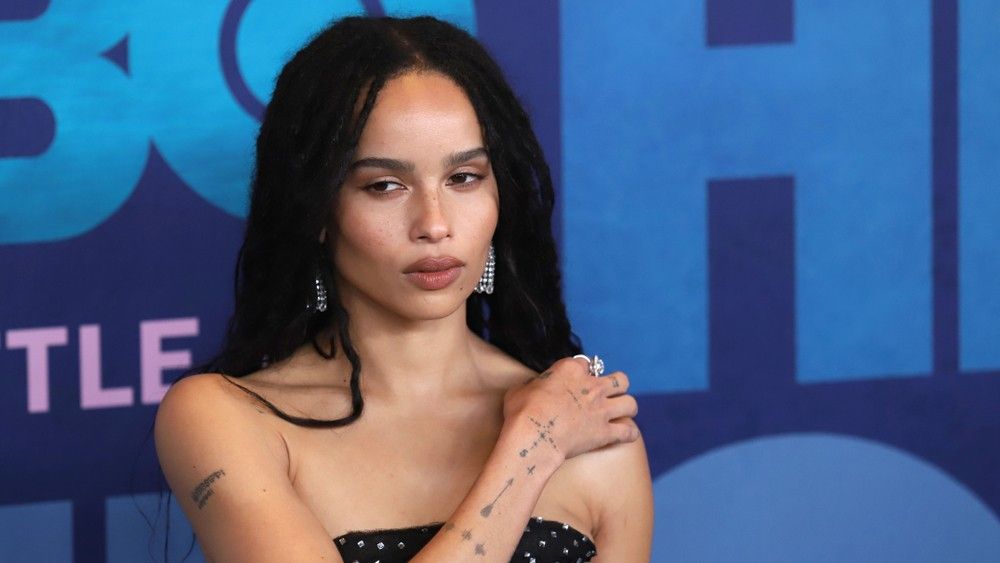 NEW YORK - MAY 29, 2019: Zoe Kravitz attends the season 2 premiere of "Big Little Lies" at Jazz at Lincoln Center on May 29, 2019, in New York City. - Image Editorial credit: JStone / Shutterstock.com
'Pussy Island' directed by Zoe Kravitz begins filming in 2023

There's a lot we don't know about the highly anticipated film 'Pussy Island,' but there are some things that have been teased.
Zoë Kravitz announced her first full-length feature as a director on Instagram with an image of herself.

The film, 'Pussy Island' will begin filming in 2023. The location is yet to be announced but according to Deadline, it begins production soon on an unknown tropical island. Maybe they can rub elbows with 'The White Lotus' cast?
Zoë Kravitz will be directing 'Pussy Island,' as her first full-length feature film. Hollywood beauty has described the upcoming project as "a genre thriller" and it's about gender identity in society today - how we're all rooted in different places but need each other to make this world worth living within.
The upcoming American thriller film is based on a script by Lena Dunham and Jenni Konner and stars Kravitz, Naomi Ackie, and Channing Tatum
The plot follows a group of friends who visit a remote island where they find themselves at the mercy of a cult. This could be a very controversial film, but we're intrigued nonetheless. We'll have to wait until 2023 to find out.
Zoë Isabella Kravitz is an American actress and singer. She is the daughter of actor-musician Lenny Kravitz and actress Lisa Bonet.
Kravitz made her acting debut in the 2007 comedy-drama ' 'No Reservations," followed by supporting roles in 'The Brave One' (2007), 'Beware the Gonzo' (2010), and 'After Earth' (2013).

She achieved wider recognition for portraying Angel Salvadore in the 2011 superhero film 'X-Men: First Class,' and 'Allegra Cole' in the 2014 comedy-drama 'The Divergent Series: Insurgent.' Kravitz portrayed Christina Noble in the 2015 biographical drama 'Mad Max: Fury Road,' and Leta Lestrange in the 2016 fantasy film 'Fantastic Beasts and Where to Find Them.' She also had a recurring role as Bonnie Carlson on the HBO comedy-drama television series 'Big Little Lies' (2017–2019).
Kravitz is also known for her music career. She released her debut album, Lolawolf, in 2014. Kravitz has appeared on the cover of French Rolling Stone, Elle, and Vanity Fair. In 2016, she was ranked the 16th hottest woman in the world by Maxim. In 2019, she was ranked the 40th most beautiful woman in the world by People.

Channing Matthew Tatum is an American actor and singer. Tatum made his film debut in the drama film 'Coach Carter' (2005). His breakthrough role was in the dance film 'Step Up' (2006). He is known for his portrayal of Mike Martingano in the 'Magic Mike' films (2012, 2015) and for his leading role as Greg Jenko in the '21 Jump Street' films (2012, 2014).
Tatum appeared in the drama film 'Foxcatcher' (2014), the biographical drama 'The Hateful Eight' (2015), and the heist comedy 'Logan Lucky' (2017). He also played Comanche war leader, chief Sitting Bull, in the historical action film 'Hostiles' (2017).
In 2018, Tatum was ranked as the ninth highest-grossing actor of the year by Forbes. His films have grossed over $3.9 billion worldwide.
Naomi Ackie is a British actress. She made her screen debut in the 2009 film 'Junkhearts.' She has also appeared in the films 'Star Wars: The Force Awakens' (2015), 'Lady Macbeth' (2016), and 'The Death of Stalin' (2017).

Ackie won the BAFTA Rising Star Award in 2020. Ackie was born in London, England. She attended the Anna Scher Theatre School and graduated from the Royal Central School of Speech & Drama in 2014. Ackie won the BAFTA Rising Star Award in 2020. She was also nominated for the EE British Academy Film Award for Best Supporting Actress.
Sign up for Project Casting for more information as soon as it is released.
More Project Casting Entertainment News:
Why Brad Pitt Quit Smoking and Drinking During the Pandemic
Brad Pitt thanks Pandemic lockdowns for his healthier lifestyle In a GQ interview, the Hollywood A-lister, Brad Pitt says that he quit drinking and smoking alto...
Economic Recession is Starting to Hit Hollywood
Executives in Hollywood Are Preparing for the Advertising "Storm Clouds" Ahead. According to forecasters, ad budgets are among the first to be cut as marketers ...
'Dune 2' Casting News: Everything We Know So Far
Léa Seydoux, the 'James Bond' actress, has joined Dune: Part 2 as Lady Margot. The addition of newcomers Christopher Walken, Florence Pugh, and Austin Bu...