How Melissa McBride Went from a Casting Director to a Zombie Killer
Before becoming a bad ass on The Walking Dead, did you know Melissa McBride was a casting director in Georgia?
McBride is best known for her role as Carol Peletier on the hit AMC series
The Walking Dead.
She gained critical acclaim and received several awards and nominations for her role on the TV series. But, her acting resume, prior to The Walking Dead, was not filled with major roles or big TV shows. In fact, she starred in small minor roles on TV and supporting roles in made for TV movies, before quitting acting and becoming a casting director.
McBride started her acting career in 1991 appearing in a Rooms To Go commercial as well as being a spokeswoman for Ford. She made her TV debut in the ABC legal series
Matlock
and later guest starred on popular shows such as
Walker Texas Ranger,
and
Dawson's Creek.
In fact on Dawson's Creek, she played Nina – a film buff who charms Dawson after his breakup with Jen – in the season one episode "Road Trip" in 1998, and in 2003 returned to show in the series finale playing a different character. She also had supporting roles in several small made-for-TV movies including Lifetime. However, it was McBride's reported relationship with Frank Darabont, the former executive producer behind
The Walking Dead,
that led him to cast her as Carol Peletier in the AMC TV series. She now plays a middle-aged widow and caring mother to daughter Sophia, fighting to survive the zombie apocalypse with millions of flesh-eating zombies.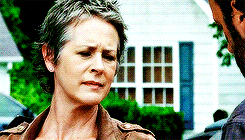 It is surprising to note that Carol was supposed to have been killed off in the episode "Killer Within", but the producers eventually decided to kill T-Dog instead. According to Wetpaint, in an interview with The Walker Stalkers podcast, Greg Nicotero, TWD's producer, revealed the change made to the show's original script. "In the original draft of ['Killer Within'> script,
Melissa McBride's
character [Carol] was supposed to die. Iron-E [T-Dog] wasn't going to die, it was going to be Carol." It would be rough breaking the news to Iron-E Singleton, who had become a fan-favorite on the show. Nicotero continues:
"And there are times when one of the producers has to make that sad call and say, listen, I have some bad news for you. But it changes, you can't get into situations where you call an actor and go hey dude in episode six I hate to say it but you're going to be gone. Because, by the time they get to episode six, you know what, we changed that a little bit and Carol's going to live now and T-Dog's going to die."
In the original Robert Kirkman comic books, Carol does in fact die in the prison, but it is by suicide. She struggles to cope with rejection as she pursued relationships with Rick, Tyreese, and Lori.
Melissa McBride
's character and acting on
The Walking Dead
have been met with critical acclaim. Producers of the series, Scott M. Gimple and Robert Kirkman, said in 2014 that "Carol is her own unique character; it would be a disservice to Melissa McBride to say she's evolved into the Carol from comics. The Carol in the TV show is a wholly original creation that we'll continue to explore on the show to great effect. Everyone in writers' room loves that character, and we're thrilled with what Melissa has brought to the table. She has definitely become a character that is one to watch, and there's some really exciting stuff ahead for her."