At Least 5 New 'Power Rangers' Movies Are Coming Soon
Lionsgate is planning on expanding their Power Rangers franchise.
If you were excited about the upcoming 
Power Rangers 
movie, then I have some really good news for you. Lionsgate is planning on creating seven additional 
Power Rangers 
movies. Following the end of the 
Hunger Games 
franchise, Lionsgate has struggled to find a new film franchise to rake in the big bucks in the box office. Luckily for Lionsgate, there are the 
Power Rangers. 
In fact, in a recent meeting with stock holders, the studio said they are planning to make "five, six or seven" movies from the Mighty Morphin' Power Rangers team.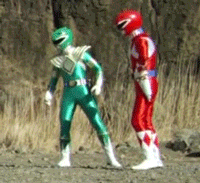 That's a ton of movies. The first 
Power Rangers 
movie hits theaters on March 24, 2017. Via
Deadline
What do you think? Discuss this story with fellow
Project Casting
 fans on 
Facebook
. On Twitter, follow us at @projectcasting.