Kanye West Bashed For "Ripping Off" a Homeless Teen
Did Kanye West steal the idea for his clothing line off of a homeless teenager's jacket? One photographer thinks so.
Photographer Jim Goldberg claims that Kanye West's Life of Pablo denim jacket is a rip off of a homeless teenager's jacket and Kanye is stealing profits from a homeless kid. The jacket costs $400, which features track titles scrawled in black sharpie across the back. The jacket looks similar to Tweaky Dave, the late, drug-addicted teen who fled his abusive home and ended up living on the streets of Los Angeles and forced to become a prostitute to survive.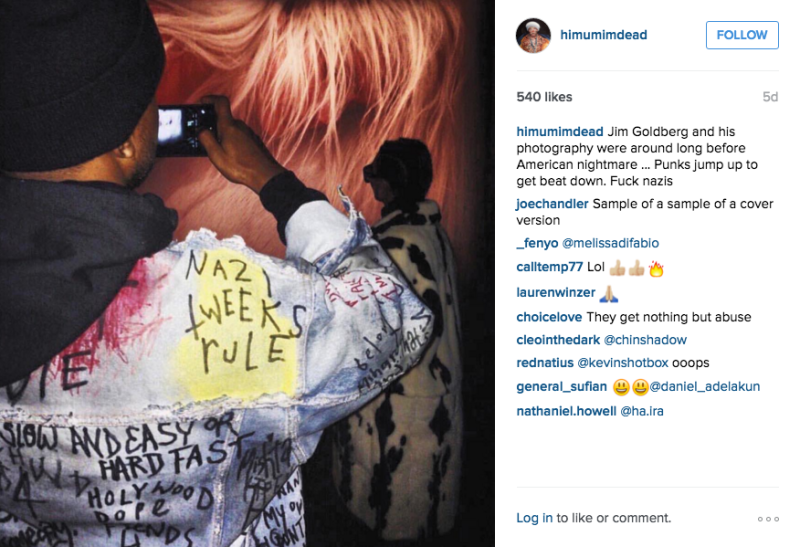 The backlash over Kanye's "knockoff" is being led by photographer Jim Goldberg, who published a photo of Tweaky Dave's now infamous, jacket from 1995. After catching West wearing a replica of the jacket created by Australian artist Pauly Bonomelli earlier this year, Goldberg argued that "Kanye's Life of Pablo jacket was a rip-off."
In an interview with
i-D
magazine, Goldberg argued that Kanye west stole a piece that represented the struggles of homeless youth for his own wealth and profit. "For the jacket to become sold as fashion — it really put me over the edge," he told the glossy. Goldberg, who was gifted the jacket by Dave before his death, went on to say he feels responsible for protecting Dave's legacy. "Ultimately all I would want from them is acknowledgement of Dave, and maybe they give something to homeless kids."
A photo posted by Jim Goldberg (@goldbergjim) on
Goldberg argued that he wanted to pursue legal action, though that's probably not going to happen since the jacket is not an exact replica. But, this should not be that surprising. Just listen to a collection of songs Kanye West has sampled over the years and it shows that "No Idea is Original".
What do you think? Share with us your thoughts in the comments below!