'Jumanji' Sequel To Film in Atlanta This January 2019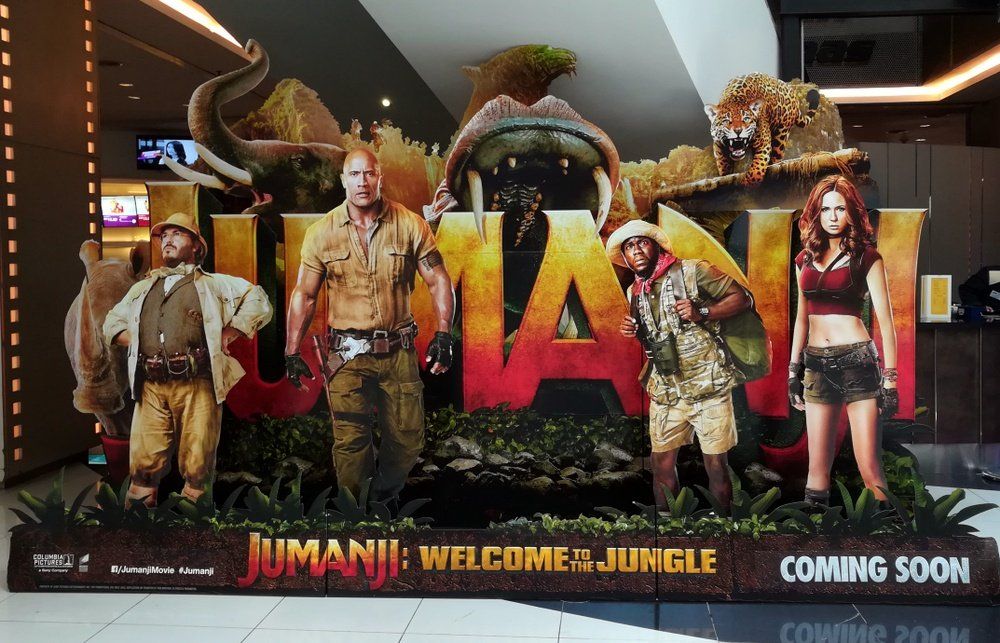 KUALA LUMPUR, MALAYSIA on 14 December 2017 - Standee of Jumanji: Welcome to the Jungle display at the cinema to promote the show. It is a 2017 American action adventure comedy film
Jumanji sequel is going to start filming in Atlanta, Georgia starting this January 21, 2019.
Reports suggest director Jake Kasdan and the original Jumanji: Welcome to the Jungle cast would be returning to the franchise for filming in January, which means Dwayne Johnson, Kevin Hart, Karen Gillan, and Jack Black will be reprising their roles from hit franchise.
Filming will take place in Atlanta with production set to start on January 21st and will wrap on April 26th.
Dwayne Johnson is said to be shooting Red Notice co-starring Gal Gadot once Jumanji finishes production. Sony has set the release date for December 13, 2019.
Jumanji: Welcome to the Jungle
 is a comedy adventure film directed by Jake Kasdan and written by Chris McKenna, Erik Sommers, Scott Rosenberg, and Jeff Pinkner, based on a story written by McKenna.  
Jumanji: Welcome to the Jungle 
is a sequel to the 1995 
Jumanji, 
which is based on the 1981 children's novel by Chris Van Allsburg. The movie stars Dwayne Johnson, Jack Black, Kevin Hart, Karen Gillan, Nick Jonas, and Bobby Cannavale. 
Jumanji: Welcome to the Jungle 
is set twenty-one years after 
Jumanji 
and centers around four teenagers who are transported into the video game version of Jumanji and play as their chosen characters. It grossed over $962
million worldwide, becoming the fifth-highest-grossing film of 2017and the 42nd-highest-grossing film of all time.
Related: