How Heath Ledger Became The Joker with This Secret Diary
Learn how Heath Ledger got into character of the Joker by using a secret diary.
Many people believe that Heath Ledger's dedication to immersing himself into the role of the Joker led him to his tragic death, and a look inside the actor's "Joker Diary" is a clear reminder of how committed Ledger was to the role and acting. In a German documentary titled 'Too Young to Die,' Heath Ledger's father, Kim Ledger, shared details about Heath Ledger's dedication to playing the role of Joker.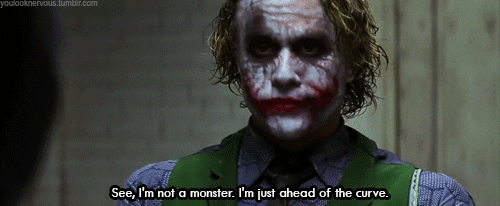 It was eerily innocent.
The diary featured a childish cover featuring cartoons but, once you open the "Joker Diary" you will see it was far from innocent.
Sick and Twisted Role models
The Joker Diary features a ton of twisted characters such as hyenas from Lion King and the character "Alex" from Stanley Kubrick's 'A Clockwork Orange'.
How Heath Ledger created "The Joker Diary"
While going through the diary, Heath Ledger's father confirms that his son cut himself off from society in order to dig into the Joker's twisted mentality and character.
"He galvanized the upcoming character. That was typical of Heath. He would do that. He liked to dive into his characters, but this time he really took it up a notch."
Before his death, Heath Ledger discussed how he created the director, and in turn learned how to speak like a sociopathic killer like The Joker, he explained to Empire that:
"I sat around in a hotel room in London for about a month, locked myself away, formed a little diary and experimented with voices - it was important to try to find a somewhat iconic voice and laugh. I ended up landing more in the realm of a psychopath - someone with very little to no conscience towards his acts. He's just an absolute sociopath, a cold-blooded, mass-murdering clown, and Chris has given me free rein. Which is fun, because there are no real boundaries to what The Joker would say or do. Nothing intimidates him, and everything is a big joke."
Heath Ledger studied the history of The Joker
Alongside drawings and inspiration for sick and twisted characters, Ledger also studied all of the Joker's past evil deads in the DC Comic universe. The diary also contained a shot of the original makeup test for the Joker with an erratically scrawled note that Ledger had added later that reads:
8 MONTHS AGO WRAPPED NOW!
The diary's final pages features the words "BYE BYE" written over a page, and although Ledger was probably saying goodbye to the character, Ledger would eventually pass away.
"At the end of shooting, he wrote goodbye on the back of the last page. It was hard to read that."