The Scandals that Nearly Ended the Golden Globes
Here's the true story as to how the Golden Globes was nearly banned forever.
The Golden Globe Award is the American award ceremony that is given by the Hollywood Foreign Press Association (HFPA) that recognizes excellence in film and television. The annual formal ceremony and dinner is a major part of the Hollywood's film industry. The 72nd Golden Globes Awards, airs on January 11th at the Beverly Hilton Hotel in Beverly Hills, California and will be hosted by Tina Fey and Amy Poehler. But, the Golden Globes was nearly banned forever.
The Government Bans the Golden Globes
During the late 1960's until 1974, NBC was banned from airing the Golden Globes award ceremony. The HFPA has had a huge contract with NBC for decades, which began broadcasting the award ceremony locally in Los Angeles in 158 and nationally in 1964. However, in 1968, the Federal Communications Commission claimed the show "misled the public as to how the winners were determined". The allegations included that winners were determined by a group of advertisers. In addition, to motivate celebrities to show up to the awards ceremony they were informed that if they did not attend another person would be named. The FCC banned NBC for participating in the scandal. Subsequently, NBC refused to broadcast the ceremony from 1968 until after 1974.
Pia Zadora wins the award for best performance only after bribing judges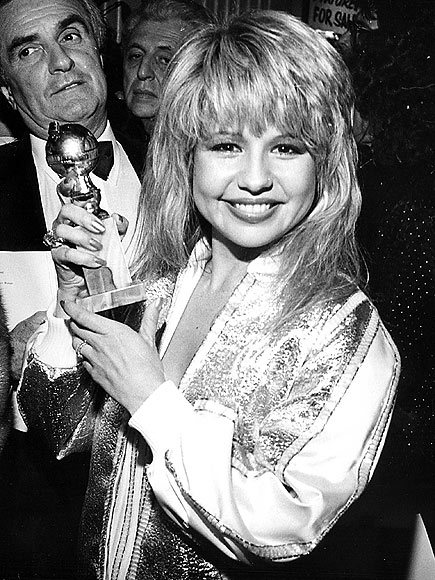 In 1982, scandal rocked the Golden Globes again. Pia Zadora won a Golden Globe in the category "New Star of the Year in a Motion Picture - Female" for her performance in
Butterfly. A
t the time she was competing against Elizabeth McGovern (
RagTime)
and Kathleen Turner (
Body Heat).
Accusations surfaced that the Foreign Press Association members had been bought off. Zadora's husband, multimillionaire Meshulam Riklis, flew voting members to his casino, the Riviera Hotel in Las Vegas, which gave the appearance that they voted for Zadora to repay this. Riklis also invited voting members to his house for a lavish lunch and a showing of the film. He also spent a great deal on advertising.
The Tourist Golden Globes Scandal
Once again in 2011, a scandal rocked the
Golden Globes.
The nominations for the 2011 Globes drew initial skepticism, as the Foreign Press Association nominated
The Tourist
in its Best Musical/Comedy category, even though the movie was advertised as a spy thriller. Rumors then surfaced that Sony, the distributor of
The Tourist,
had bribed Golden Globes voters with an all-expenses paid trip to Las Vegas, followed by a concert featuring Cher.
Discuss this story with fellow Project Casting fans on Facebook. On Twitter, follow us at @projectcasting.
Photo Credit: Gil C / Shutterstock.com