How Companies Can Use BeReal to Make Money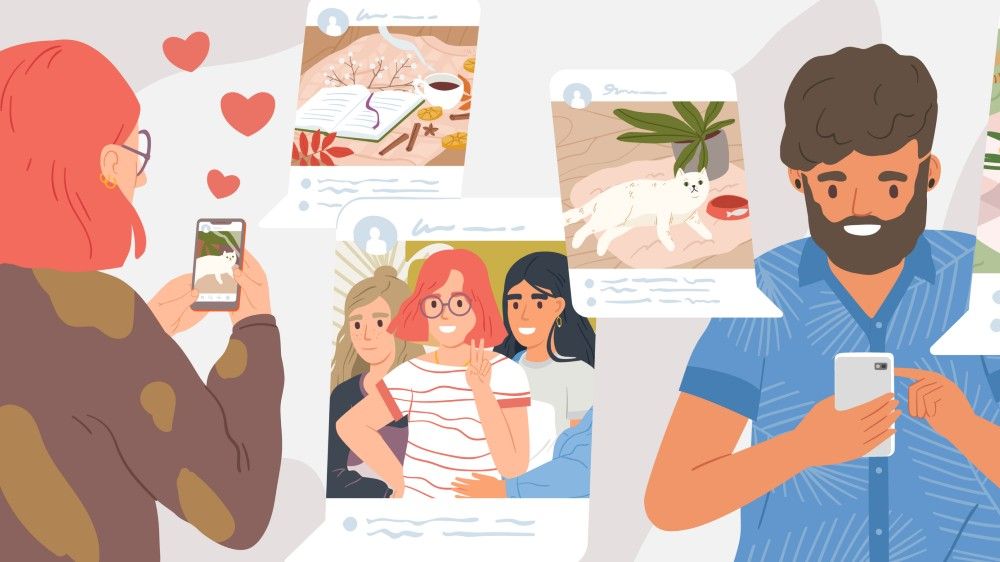 Girl and guy browse social networks. Man and woman making post and sharing happy moments with their followers. Social media influence and addiction. Vector illustration in flat cartoon style.
How are Companies Using BeReal's Potentials?
It appears that reality may be making a comeback for the first time in a long time. BeReal, a relatively new social media software, has captured the attention of Generation Z and drawn a large amount of press coverage.
Join Project Casting to access jobs you can apply to right now.
BeReal's concept is deceptively easy. Once a day, our members are prompted to take and share an image of whatever they're doing at the moment. These pictures are completely natural with no filter or editing- you can't even add things like dog ears! Unlike other platforms, there is no way to 'like' or share other people's images, and there isn't any competition for who can get the most followers. Plus, we have zero ads as well!
While you can't advertise on BeReal, companies are coming up with innovative ways to get into the game. Chipotle, for example, has an account and has employed it for competitions like displaying a napkin on which they may write a password.
The user-generated photos are often unappealing, blurry, and poorly composed. It's not uncommon to see people in front of laptops or on their phones while cooking or to commute.
You could think of it as 'Instagram' or the anti-Snapchat.
Although BeReal only has 400,000 active users compared to other social media sites, it has grown 4000% over the past year. Even though a platform that doesn't enable people to share images virally may not sound appealing to brands, they can still learn a lesson from it.
Platform's newfound popularity is something we have been privy to for a while now: Gen Z values authenticity.
The demographic between 10 and 25 is now the world's largest single generation, with roughly 2.5 billion individuals. Because they hint at how significantly marketing rules have altered, platforms like BeReal are essential to pay attention to by all brands seeking to reach this age group (in other words, all brands).
The five essential values of Gen Z
Generation Z has been dubbed the "most racially, ethnically, and sexually diverse generation in history." It's also the first to grow up in a world where the internet was there, just like television or phones were for their parents. As a result, they've developed their own distinct set of beliefs. Branded companies that want to connect with younger consumers must comprehend these principles.
Authenticity: Gen Z is the first generation to grow up with social media and digital technology. Their BS detectors are finely tuned. Traditional advertisements offend them. However, they flock to material that feels genuine to them, especially if created by people in their age group. More than four out of ten respondents claim they've made purchase decisions based on recommendations from social influencers.
Sustainability. Climate change is of utmost importance to Gen Z, and they view companies positively taking a stand against climate change. More than 60% say they are more likely to buy from sustainable brands, even if it means spending more money.
Diversity. As per research by McKinsey, Gen Z is more likely to purchase from brands that are not macho, racist, or homophobic in their marketing. Nike and Asos boast higher conversion rates from this generation because they feature ads with diverse genders and represent inclusivity.
Community. For this group, the items they buy reflect their brand. They also want to join communities with individuals who have similar preferences. According to Meta's research, 41 percent of Gen Z respondents connect more closely to businesses when they see company-generated content that makes them feel like members of a brand's community.
Honesty. Young people are more receptive to social issues and purchase goods from firms that reflect their beliefs. They anticipate businesses to engage on social topics. Brands are naturally concerned when they take a position on contentious issues since it might alienate a portion of future consumers. However, not taking a stand is likely to be far more damaging in the long term.
Time to get real
Fortunately, specific issues about which Gen Z is united – such as climate change and social justice – are less divisive and more accessible for businesses to support. The key is to authentically and visibly demonstrate one's beliefs. Brands can't just talk; they also need to walk the walk. Finally, Generation Z wants to be genuine, like that emerging photo-sharing application. It's time for companies to join them.
More Project Casting Entertainment News:
'Squid Game' Star Lee Jung-Jae to Star in New Disney+ 'Star Wars' Series
Lee Jung-Jae, The Star Of The Netflix 'Squid Game,' Will Be In Charge Of A New Disney+ "Star Wars" Series. 'The Acolyte' also stars Amandla Stenberg. Acco...
HBO Max Renews 'Pretty Little Liars: Original Sin' for Season 2
'Pretty Little Liars: Original Sin' Renewed for Season 2 at HBO Max.  "Pretty Little Liars: Original Sin" has been renewed for a second season ...
Brie Larson Says Getting Cast as Captain Marvel is a "Dream Come True"
Brie Larson is making her comic book debut as the Star of a Captain Marvel Disneyland ride, which she describes as a "dream come true." Brie Larson discussed th…