'Star Wars: The Force Awakens: Facebook is Now Letting You Add a Lightsaber To Your Profile
The Star Wars Facebook page is now letting users add a lightsaber to their profile picture with a click of a button, no force required.
There are only a few days to go until the world runs to their nearest movie theater to catch the next 
Star Wars 
movie; that's not enough time to become a jedi and build one for ourselves. Thankfully, Facebook has come to the rescue, allowing users to fool their friends into the belief they've become a Jedi or Sith Lord. The official 
Star Wars 
account for the site has built a simple tool for the purpose; their post, featuring Finn (John Boyega)'s poster with lightsaber in hand, claims, 'Awaken the Force within by adding Finn's lightsaber to your profile picture.' All you need to do to make that happen is click the button 'Try it', which will then allow you to overlay Finn's blue lightsaber or Kylo Ren's red lightsaber to your profile picture.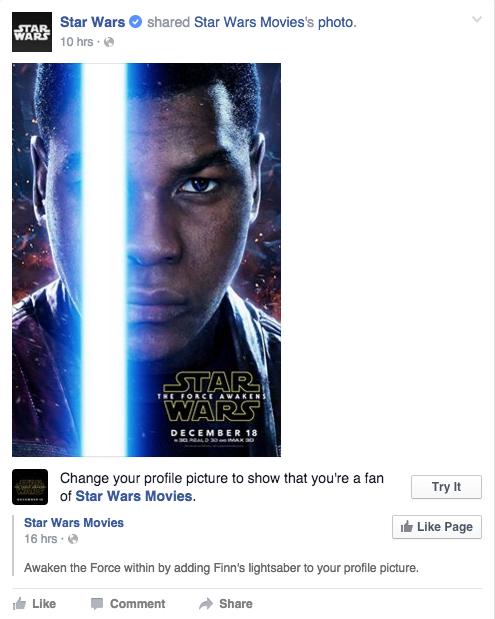 Which side will you pick? The light side or the dark side? Facebook is not the only website that has been posting Star Wars East Eggs. Recently, Google released a Star Wars Easter Egg onto its website. Just search for, 'a long time ago in a galaxy far far away' and you'll be treated an amazing surprise. What do you think of the new Facebook profile picture? Share with us your thoughts and your Facebook page in the comments below!