'Scream' Reboot To Film in Wilmington, North Carolina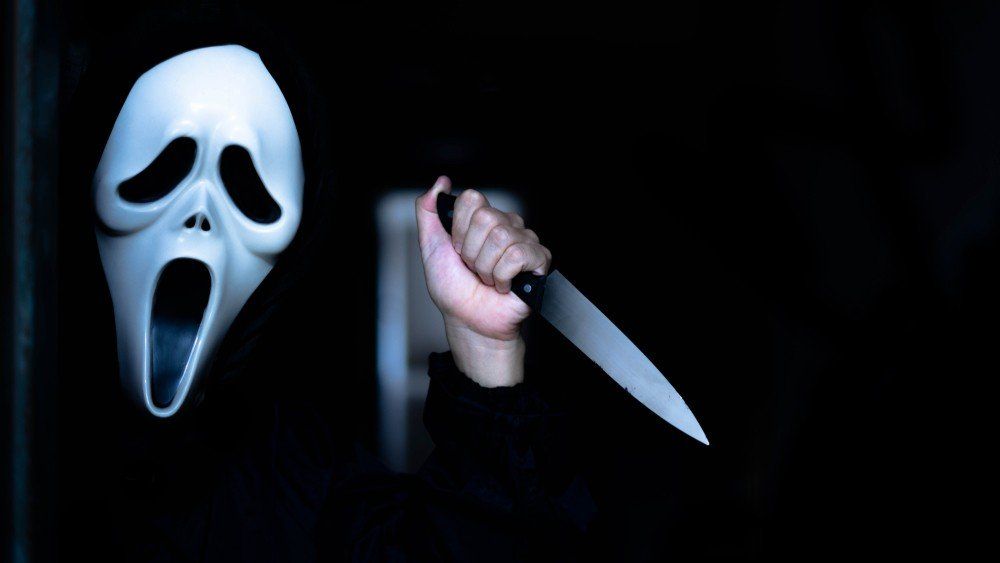 Scary Halloween Ghost making a facial expression from the movie "Scream" holding a knife in hand, Threat Concept. - Image (Editorial credit: thebigland / Shutterstock.com)
'Scream' reboot to film in Wilmington, North Carolina this fall.
The relaunch of the legendary horror movie "Scream" franchise will film in Wilmington, North Carolina. The fifth "Scream" movie will film as soon as the Coronavirus COVID-19 safety protocols are created and in place. "We have been in discussions with Spyglass about 'Scream' since last fall," Bill Vassar, executive vice president of EUE/Screen Gems Studios in Wilmington, said Monday. "It is their intention for the film to come here and it is our intention to make sure we can accommodate them. We are both looking forward to being partners in this project and we are want to see it happen ASAP. But we are still defining the safety procedures for film production, and that's not just us but the whole industry." In addition, Spyglass announced David Arquette, who played Officer Dewey Riley in the franchise's first four films, will return for the fifth movie. Neve Campbell, who played Sydney Prescott, has discussed returning to the film franchise. The movie centers around Prescott, Riley, and others who fight serial killers who have taken over the town of Woodsboro wearing the infamous Ghostface mask. Plot details for the upcoming "Scream" sequel, are being kept secret. But, the movie is considered a "relaunch" of the story, even though Arquette is expected to reprise his original role. "I am thrilled to be playing Dewey again and to reunite with my 'Scream' family, old and new," Arquette said in a statement. "'Scream' has been such a big part of my life, and for both the fans and myself, I look forward to honoring Wes Craven's legacy." The new movie will be the first film without the original director Wes Craven, who dies in 2015. The original executive producer and writer, Kevin Williamson, will return to produce the latest "Scream" movie. "Scream" is the latest horror movie to film in North Carolina. Last year, "Halloween Kills", filmed in Wilmington, North Carolina.
(Original Post - March 13, 2020) 'Scream' reboot is coming soon by Spyglass Media Group.
Set to direct the project are 'Ready or Not' directors Matthew Bettinelli-Olpin and Tyler Gillett, according to Variety.
'Scream' first debuted in 1996 with Neve Campbell playing Sidney Prescott, who was the target of the masked killer. Courtney Cox and David Arquette co-starred in the four-film franchise, which was directed by Wes Craven and written by Kevin Williamson. The movie made $608 million worldwide at the box office with sequels released in 1997, 2000, and 2011.
Spyglass Media formed a year ago with former MGM rep Gary Barber and Lantern Entertainment co-president Andy Mitchell and Milos Brajovic. Lantern owns the rights to 'Scream' as a result of taking over the assets from the Weinstein Co. in 2018.
"Ready or Not" starred Samara Weaving as a bride who becomes hunted by her spouse's family as part of their wedding evening ceremony. The horror-comedy, released last year by Fox Searchlight, earned an extraordinary $57 million at the worldwide box office on a $6 million budget. Critics delivered "Ready or Not" solid support with an 88% rating on Rotten Tomatoes.
Continue Reading:
'Scream 5' is in Early Development
A sequel to the 'Scream' franchise, 'Scream 5', is currently in development. According to reports, a new 'Scream' movie is currently in development at Spyglass Media Group. As the film is still in early development,...
MTV's 'Scream' Season 3 Casting Call for Cops
MTV's Scream season 3 is now casting police officers in Atlanta, Georgia. Casting directors are looking for talent to work on scenes filming on Friday, October 27th in Atlanta, Georgia. Producers are seeking the following types: PARENTS: Currently Casting...