Casting Directors Reveal What It's Like Casting for "Avengers: Endgame"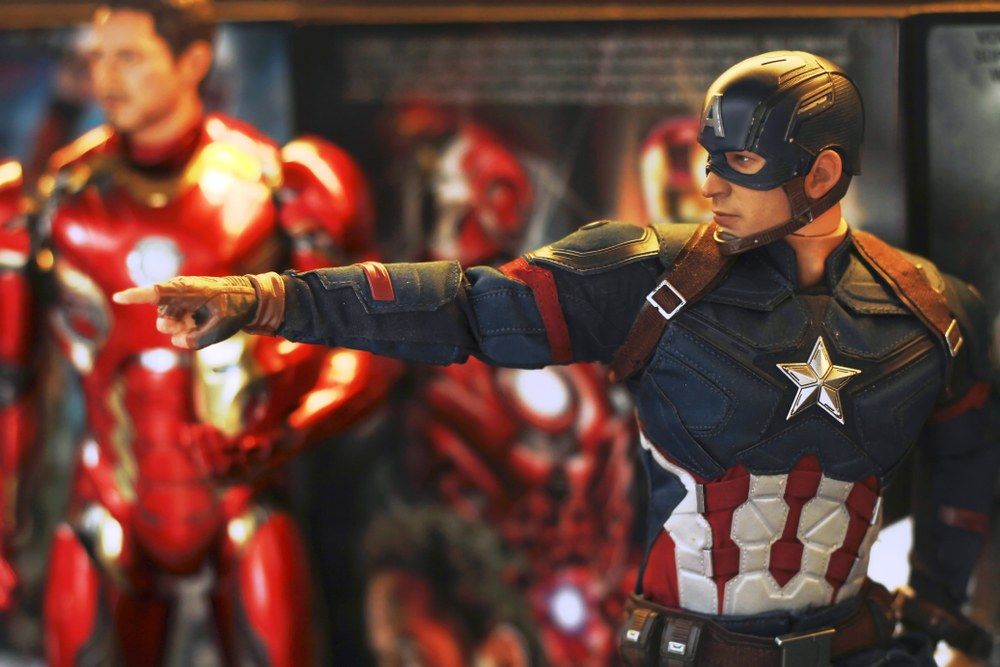 BANGKOK THAILAND - APRIL 26 ,2017 : Close up shot of Captain America Civil War superheros figure in action fighting. Captain america appearing in American comic books by Marvel. (phol_66 / Shutterstock.com)
Here's what it's like to cast speaking roles, principal roles and background acting roles in Marvel's "Avengers: Endgame".
A couple of years ago, Project Casting shared casting calls from casting directors looking for actors, models, and talent to work on the next "Avengers" movie. Now, "Avengers: Endgame" is going down in the record books as one of the biggest movies in box history. The movie debuted to a worldwide total of $1.22 billion and became the first movie ever to make $1 billion around the world in their opening weekend. "Avengers: Endgame" centers around the events of the "Infinity War" as Thanos takes over the universe while Iron Man, Thor, Captain America and the rest of the Avengers fight to save the world.
"Avengers: Endgame" Extras Casting - How they did it
In a blog posted by Central Casting, extras casting director Alyssa J. revealed what it was like to cast background actors, stand-ins and photo doubles for both "Avengers: Endgame" and "Avengers: Infinity War", which was shot in 2017. "For the most part, the first half of filming was dedicated to 
Infinity War
 and the last half of filming to 
Endgame
," Alyssa said. "However, the two movies were often shot out of order, or even more challenging, they were shot simultaneously. There would be a main unit that filmed scenes for 
Infinity War
 while an additional second unit filmed at the same time in a different location for 
Endgame
." Central Casting Georgia cast over 2,500 background actors, 100 stand-ins and 40 photo doubles to account for over 50 principal actors. Unlike "Infinity War", "Endgame" flashes back and forth between multiple time periods. Alyssa counts tehse scenes as some of her favorite and most challenging. "The most challenging scene to cast was the 1970s exterior Camp Lehigh sequence when Captain America and Tony Stark time travelled back to get the Pym particles and Infinity stone," Alyssa said. "We needed over 150 Background Actors to work a two-day matching recall. The majority of them needed to be male soldiers which meant high and tights for almost everybody! We had to find 100+ men willing to have production cut their hair into a period-appropriate military style and be completely clean shaven, in addition to them also being physically fit. Needless to say, it was a challenge, but luckily we had a great group of background commit to this scene."
Marvel Casting - What it's like casting over 1,000 actors
Robert Downey Jr. at the premiere of Disney and Marvel's 'Avengers: Infinity War' held at the El Capitan Theatre in Hollywood, USA on April 23, 2018. - Image (Tinseltown / Shutterstock.com) But it begs the question, what is it like to cast the principal roles for the Marvel movies. In a recent
Washington Post interview
with Sarah Finn of Sarah Finn Casting, the casting director discussed what it was like casting Robert Downey Jr. and the complexities of casting so many A-list actors for such a big production.
Casting Robert Downey Jr.
She explained Marvel was confident in their decision in casting Robert Downey Jr. in "Iron Man" and it paid off. Downey's acting led to the resurgence of the Marvel superhero movies and launched the Marvel Cinematic Universe. Finn has taken on the task to cast every actor who appears in the Marvel Cinematic Universe, which includes thousands of roles overall, ranging from characters as high-profile as Captain America to those as minor as his background dancers. The job calls for a certain level of foresight and being able to predict what kind of traits an actor would need for scenes that have yet to be imagined or written.
What Marvel casting directors are looking for
LAS VEGAS, NV, USA - SEP 20, 2017: Iron Man costume (from 2010 movie) at the Tony Stark base at the Avengers experience in Las Vegas. (Anton_Ivanov / Shutterstock.com) Due to the future of the Marvel franchise and the "Avengers" films, Feige knew she needed actors who could, as the Washington Post explained, "vibe with almost anyone else on screen." "When Thanos first appeared in the Marvel movies, it was really just a couple lines of dialogue. The character was shadowy and not that visible," Finn says. "To see him go from a few lines to being one of the most iconic villains of all time in movie history, I don't think Josh [Brolin] even knew how his character was going to be represented on screen, or the impact he would possibly have."
How Marvel managed scheduling conflicts
Zoe Saldana at the World premiere of 'Avengers: Endgame' held at the LA Convention Center in Los Angeles, USA on April 22, 2019. - Image (Tinseltown / Shutterstock.com) Another challenge was scheduling. Coordinated by a producer on "Infinity War", arranging schedules for A-list actors was "a tremendous feat that probably hasn't been done ever," she says. But production schedules can also impact casting. When discussions started as to who will appear in the "Spider-Man" franchise, Finn says they had to find an actor who would not have a growth spurt in a few years. "We had to find a young actor who hopefully wasn't going to grow six inches in the intervening time period," Finn laughs. "Poor Tom Holland was so antsy and ready to start shooting." Finn explains production companies hire casting directors 3 to 4 months before filming but she started searching for talent up to a year or two in advance. Essentially, it is about finding actors who will be loved by fans and will do the characters justice, which takes time for such a big project.
Casting Thor, Captain America, The Hulk and Black Widow
LOS ANGELES, USA. April 22, 2019: Scarlett Johansson at the world premiere of Marvel Studios' "Avengers: Endgame". Picture: Paul Smith/Featureflash - Image A "daunting" challenge included finding an actor to play Thor. Producers were looking for someone who features "both the qualities of an Asgardian god and be a relatable figure on Earth." Chris Hemsworth was known at the time for playing Captain Kirk's father in "Star Trek" and Tom Hiddleston, who plays Thor's brother Loki, had done relatively small projects in England. Reports surfaced as to who would play Thor with a 2009 Vulture article saying "Marvel Rolls Dice, Casts No-names for 'Thor," a story Finn remembers. "I've lost a lot of sleep over the years," Finn says. Chris Evans was also reluctant to play Captain America, which she explains worked out for the character. "He has a humility, a moral compass that is tangible and that the audience can really feel with him," Finn says. Scarlett Johansson, who plays "Black Widow" was not known as an actor star at the time. But she "embraced that challenge . . . with strength and an endearing quality that really resonated with us." Finn says she knew Ruffalo from his off-Broadway work and was "keyed into his sensibility as an actor, his intelligence, his subtlety", which were key traits they wanted to bring to Bruce Banner and The Hulk. The process for casting voice actors was not that serious. Vin Diesel's performance in "The Iron Giant" allowed him to land the role of "Groot". Bradley Cooper was known for changing his voice and his comedic style landed his role as "Rocket". "I could go on and on and say how proud I am," Finn says.
Continue Reading:
Georgia-filmed "Avengers: Endgame" brought in $1.2 billion worldwide at the box office, making it the biggest box office opening of all time. In the United States, the Marvel movie raked in $350 million, breaking the...
Following the ending of "Avengers: Endgame," the Marvel Cinematic Universe is expected to be a lot more diverse. Marvel Studios plans to introduce several new superheroes in an expanding array of genders, ethnicities, ages, and...
Massive "Avengers: Endgame" footage has leaked online Months after filming scenes and issuing casting calls in Atlanta, Georgia, a massive "Avengers: Endgame" footage has leaked online days before the movie's premiere date. Marvel fans beware, spoilers...
Related: How to Find Acting Auditions and Casting Calls
What do you think? Discuss this story with other fans on Instagram @projectcasting