Major Feature Film is Now Casting A Ton of Atlanta Actors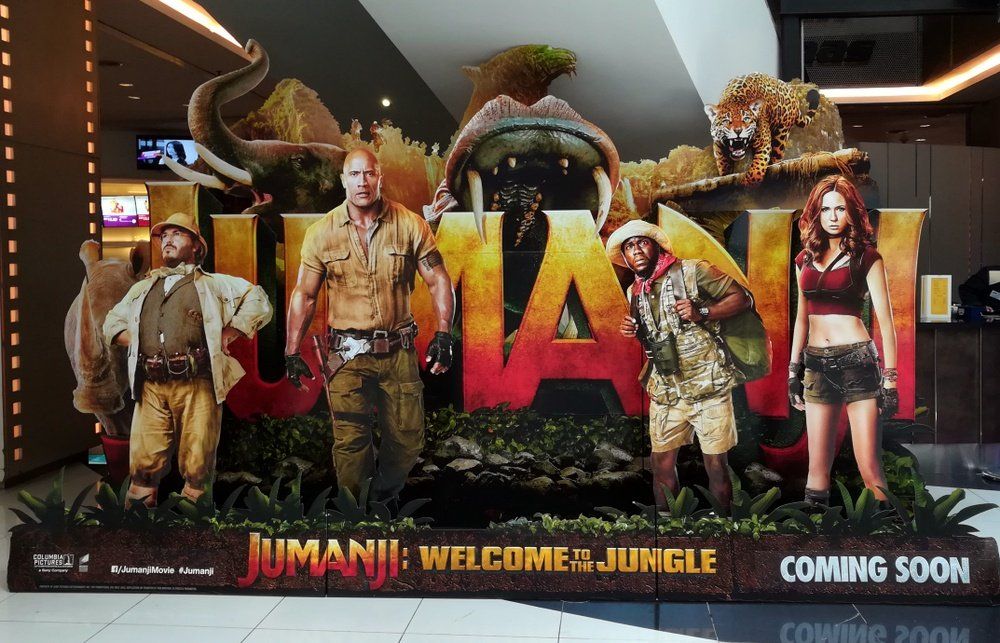 KUALA LUMPUR, MALAYSIA on 14 December 2017 - Standee of Jumanji: Welcome to the Jungle display at the cinema to promote the show. It is a 2017 American action adventure comedy film
A major feature film is now casting background actors in Atlanta, Georgia.
Tammy Smith Casting, the previous extras casting director behind Jumanji: Welcome to the World and Spider-Man: Homecoming is now casting for an upcoming Sony Pictures feature film code-named "J19".
Filming will take place in Atlanta, Georgia and the greater Atlanta area from January 23rd through April 1st Monday through Friday. Film days will be approximately 10 to 12 hours long and often even longer. The casting call is currently for paid background acting work. The background actors working in the movie must be local and/or able to work and stay in the Greater Atlanta area as a local hire. However, casting directors are open to submissions from distant locations, especially in the event you are an outstanding type that producers really need. If you are from a distant location, travel and lodging will not be provided.
Casting directors are looking for the following types:
Athletic/Workout types
College Types
Trading post and village men and women
Tough men
And more
For more information and how to apply click here.
Details for the upcoming feature film have not been released. However, Sony Pictures is reportedly expected to film the sequel to
Jumanji: Welcome to the Jungle
in Atlanta, Georgia.
Reports suggest director Jake Kasdan and the original Jumanji: Welcome to the Jungle cast would be returning to the franchise for filming in January, which means Dwayne Johnson, Kevin Hart, Karen Gillan, and Jack Black will be reprising their roles from hit franchise.
Filming will take place in Atlanta with production set to start on January 21st and will wrap on April 26th.
Jumanji: Welcome to the Jungle
is a comedy adventure film directed by Jake Kasdan and written by Chris McKenna, Erik Sommers, Scott Rosenberg, and Jeff Pinkner, based on a story written by McKenna.
Jumanji: Welcome to the Jungle
is a sequel to the 1995
Jumanji,
which is based on the 1981 children's novel by Chris Van Allsburg. The movie stars Dwayne Johnson, Jack Black, Kevin Hart, Karen Gillan, Nick Jonas, and Bobby Cannavale.
Jumanji: Welcome to the Jungle
is set twenty-one years after
Jumanji
and centers around four teenagers who are transported into the video game version of Jumanji and play as their chosen characters. It grossed over $962
million worldwide, becoming the fifth-highest-grossing film of 2017and the 42nd-highest-grossing film of all time.
Please do not apply, if you are not local or if you do not fit the description.
What do you think? Discuss this story with other fans on Instagram
@projectcasting