CBS 'MacGyver' Open Atlanta Casting Call
MacGyver is now casting extras in Atlanta, Georgia.
CBS is bringing back MacGyver and casting directors are looking for background extas to work on the new TV series. Central Casting is looking for extras to work on the new CBS series, which will in Atlanta, Georgia starting this July 2016. Casting directors are currently seeking actors to work on the TV show. Producers are looking for all age ranges and ethnicities to work on the new MacGyver Reboot.
About MacGyver:
A reimagining of the classic series, is an action-adventure drama about 20-something Angus "Mac" MacGyver who creates a clandestine organization within the U.S. government where he uses his extraordinary talent for unconventional problem solving and vast scientific knowledge to save lives. Joining his team on high-risk missions around the globe is maverick former CIA agent Jack Dalton. Under the aegis of the Department of External Services, MacGyver takes on the responsibility of saving the world, armed to the teeth with resourcefulness and little more than bubble gum and a paper clip.
---
To audition for a role on MacGyver, check out the casting call details below:
MacGyver Casting Call
Come be a part of our legendary database! Central Casting is here to make you a part of TV Shows and Movies filming here in Georgia! Here is what what you need to know to join the fun! 1.) All registrations MUST be in person! 2.) Registration hours are every Monday-Friday 11am-5pm 3.) What to bring: Come photo ready for your Central Casting head shot and bring valid identification for your I-9.
4.) Registration is open to all ages and is FREE of charge! No experience necessary! 5.) We are located at 235 Peachtree St NE Ste 217 Atlanta, GA 30303 6.) Parking: 30 Andrew Young International Blvd., NE Atlanta GA ($6 for 45 minutes) Many other parking options available. 7.) Want to be in and out quickly? Print and fill out your registrations paperwork ahead of time!http://www.centralcasting.com/GA/actors/resources.html
Have any other questions? CALL US! (404) 920-8011 We look forward to seeing you soon!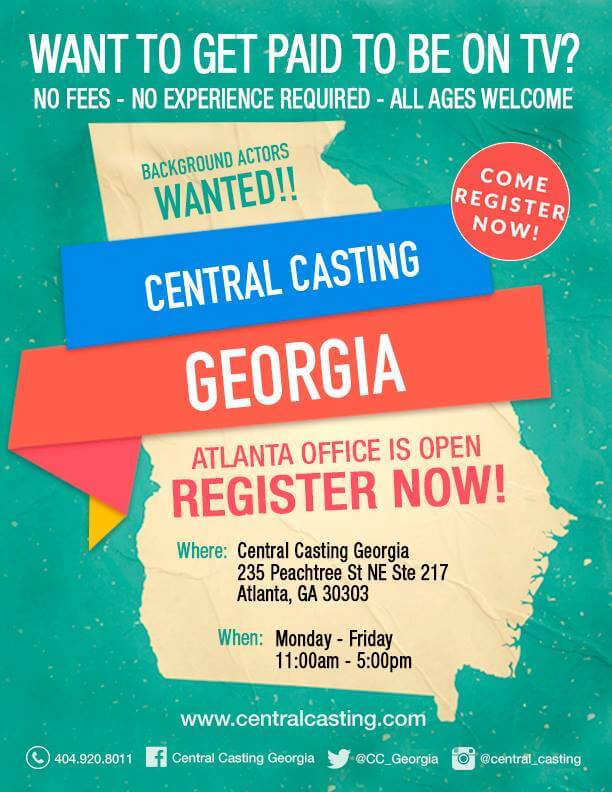 Please do not apply, if you are not local or if you do not fit the description.
What do you think? Discuss this story with fellow
Project Casting
fans on
Facebook
. On Twitter, follow us at @projectcasting.